Clayton Kershaw is one of the best pitchers that ever took the mound. No question. Any fan or sportswriter who has followed the game and knows baseball agrees with that.
And everyone knows he is a future Hall of Famer, likely a first-ballot inductee. Here are some of the reasons why:
Did you know that he earned his 200th career win earlier in this 2023 season, which went along with fewer than 100 losses (only 88)? Only five other pitchers in MLB history have done that...all Hall of Famers.
He is the Dodgers all-time strikeout leader, quite an accomplishment with a franchise that has had many aces, including Koufax, Drysdale, Newcombe, Valenzuela and Don Sutton, whom he passed last season
On one recent list of best pitchers of all time, Kershaw was number 10, ahead of greats such as Koufax, Gibson, Marichal, Feller and others
With two more wins this season, Kershaw will tie Don Drysdale on the list of most wins all time by a Dodger pitcher, with only Don Sutton ahead of him
He is the winningest left-handed pitcher for the team all time...a team that includes Koufax and Valenzuela
When he notched his 200th win early this season, he became only the third Dodger pitcher to do that
His career winning percentage of nearly 70% (.694) is the best among all pitchers in the modern era. Whitey Ford (who played on powerhouse Yankees teams) is second.
And…did you know that Kershaw has the lowest career ERA by an active starting pitcher, at least 1,000 innings, with an ERA of 2.50?
And yet...
…there are too many instances where sportswriters are sure to bring up (or even start with) Clayton Kershaw's performances in the postseason, which hasn't measured up to his standards or fans' expectations, when talking about his extraordinary career...maybe before even talking about his amazing achievements.
"Kershaw is great, but...." Or, "In spite of his playoff letdowns...."
That's just not right, even if you can point to some postseason stats to "prove a point." But what is the point?
How is it fair to judge Kershaw more than other star players? You can look up the postseason stats of many famous Hall of Famers who either never made it to the postseason or, if they did, didn't rack up the stats. That list includes Willie Mays, Roy Campanella, Joe Morgan, and others. Ernie Banks and Billie Williams never even made it to a World Series.
And yet, you never hear, "Willie Mays was great, but...." Or, "Tommy Glavine was great, but...."
Clayton Kershaw has earned the right to be remembered for his greatness. Period. Here are some stats that illustrate what an amazing pitcher Clayton Kershaw—now 35 years old—truly is.
Kershaw the great.
Clayton Kershaw broke into the league in 2008 and, at the age of 20, was the youngest player in Major League Baseball at the time. The start of the 2023 season marks his 16th season in the Majors.
2011–2017. An incredible seven-season streak of success.
Over a span of seven seasons, from 2011 to 2017, Kershaw's record was 118-41 with an ERA of 2.10. Let's take a look what he accomplished over that span:
In 2011, he won the pitching Triple Crown, leading the league in wins (21), ERA (2.28) and strikeouts (248)
He won the Cy Young Award three times
He won four consecutive ERA titles. Only Koufax, with five, has more consecutive titles in MLB history. Kershaw led the league in ERA five of those seven seasons.
He won 21 games twice and led the league in wins three times
He threw over 200 innings in four seasons, 198 in another
He led the league in strikeouts in three seasons, striking out 301 in 2015. (He also led the league in innings pitched.)
He made the National League All-Star Game roster each of those seasons
In 2016, from Opening Day to June, he struck out 105 batters while walking only five. Five! His strikeout-to-walk ratio over that span was 21. That was the lowest walk total for a hurler with 100 Ks in modern baseball history. The league leader typically has a number somewhere between 5 and 7.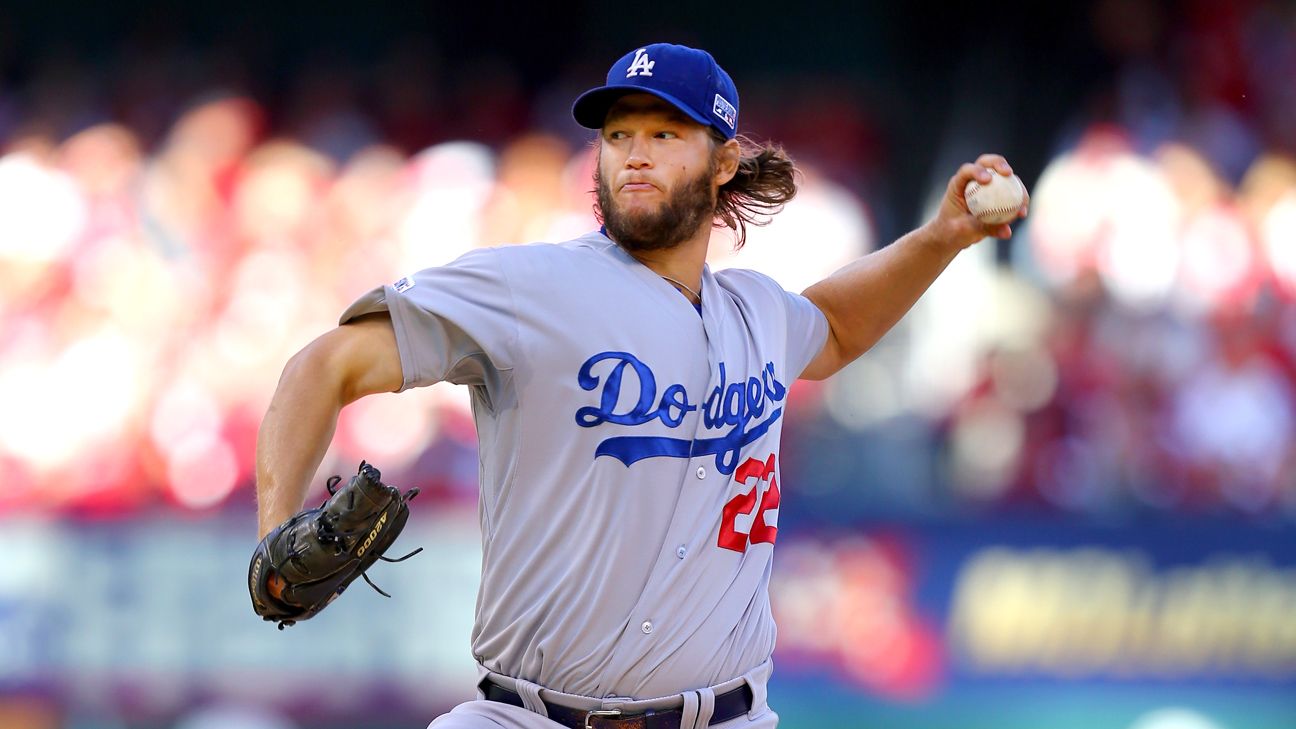 Photo credit: ESPN
Kershaw's 2014 season. One of the best ever.
Kershaw had one of the best seasons a pitcher could have in 2014, and it's considered one of the best ever by some:
He had a 21-3 record (winning 87 percent of his games, with an ERA of 1.77)
For sabermetrics fans, he also led the Majors in ERA+ (197), FIP (1.81), WHIP (0.857) and S09 (10.8)
He had a scoreless-innings streak of 41
It was his fifth of six straight seasons with at least 200 Ks
On June 18th, he threw a no-hitter that should have been perfect game—but a throwing error by an infielder cost him
Kershaw won every possible award, including Most Valuable Player and Cy Young.
What have you done for me lately? Plenty!
Since turning 30 (from 2018 to now), his record is 63-27, a 70% winning percentage. In 2020, he went 6-2 in the pandemic-shortened season.
And this year in his 16th season? His record at the All-Star Game break is 10-4, with an ERA that is best in the National League. By the way, he made the All-Star Team roster for the 10th time. Unfortunately, a sore shoulder will keep him out of this one.
And then there's this.
At the end of 2022, ESPN compiled a list of the best MLB players of all time. Kershaw was number 52. The only active player lower on the list was Mike Trout (at 15). Albert Pujols, who retired at the end of last season, was number 30. The handful of pitchers who are lower on the list are all Hall of Famers.
Resources: si.com/mlb/dodgers/kershaw-ranked-among-greats; mlb.com/news/clayton-kershaw-s-top-moments; mlb.com/news/kershaw-inflammation; mlb.com/clayton-kershaw-s-top-moments; dodgersnation.com; espn-kershaw-ranked-among-all-time-greats; si.com/kershaw-as-good-as-ever; mlb.com/news/kershaw-200-career-wins-stats; baseball-reference.com; wikiepdia.org/claytonkershaw; Youtube.com.