Bobbleheads Seem Like They've Been Around Forever. They Haven't. (You'll Be Surprised to Learn What the First Ones Were.)
A staple of the common era baseball season is the fan giveaway. Teams across the country hope to both attract and reward their fans for attending by promising the first thousands through the turnstiles a gift of some kind.
The earliest kinds of team and sponsored giveaways included cutouts, hats, rulers, and even some transistor radios. You still see plenty of shirts, scarves and hat giveaways at the ballpark.
But these days, don't expect your team to go through a season that doesn't include a bobblehead giveaway—or even a handful of them.
For instance, the Los Angeles Dodgers, one of the more bobblehead-crazy franchises, have 18 bobblehead giveaways on their 2019 schedule, including one of former manager Tommy Lasorda.
Sports teams of all kinds have adopted the bobblehead as a fan freebie in recent decades, but Major League Baseball was the first sports organization to release them for their teams.
You'd think that bobbleheads started a long time ago and that they've always been around. Surprisingly, that's not the case.
Let's take a look at where the trend first started and just a few of the hundreds that are out there to date.

Bobblehead Beginnings: Circa 1960.
The first bobbleheads to show up in ballparks in 1960 weren't actually giveaways—they were for sale with the other souvenir items.
Bobbleheads had been relatively unknown in the U.S. before this time, but that year Major League Baseball created papier-mâché and ceramic "nodders" (as they're sometimes called) to represent each team in the league. Those first bobblehead mascots all had the same face (think of the happy face of Bob's Big Boy) but different jerseys to represent their teams. At that time, they were found for sale in many ballparks.
In 1960 World Series, MLB decided to create the first ever player-specific bobbleheads. Those first four player bobbleheads were stars of that time:
Willie Mays
Mickey Mantle
Roberto Clemente
Roger Maris
By the way, Maris, Mantle and Clemente all appeared in the 1960 World Series between the Yankees and the Pirates. The novelty items boomed, and suddenly there was an American market for these little figurines.
Bobblehead popularity was strong during the sixties, but eventually interest started to wane. Production shifted to ceramic gold-base models, which chipped easily and weren't cheap to produce. Many collectors began to invest in other team-related items such as lunchboxes and action figures, and it wasn't long before bobbleheads weren't to be found in ballparks.
According to Collectors Weekly, the most collectible (valuable) bobbleheads are those from 1960-1962 that have round or square bases painted white or orange.)

Relic Renaissance
Fast-forward to 1999. The San Francisco Giants were in their final season at Candlestick Park and decided to do some retro-themed giveaways to celebrate the 40 years they had been there. Executive Vice President Mario Alioto remembered the Giants bobblehead he had gotten from the park when he was a kid and decided it might be a cool giveaway for fans who remembered the relics like he did.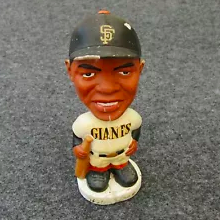 So, on May 9, 1999 the first 20,000 fans who came to Candlestick received a Willie Mays bobblehead. In the decades since the first bobbleheads, manufacturing had changed to allow for plastic models—sturdier, cheaper, and even allowed for them to be more detailed. And though the 1999 bobblehead didn't represent the real Willie Mays any closer than the 1960 bobblehead had, the fans loved it.
The event was a hit. The resurgence of bobblehead popularity was quick, with eight MLB teams giving away bobbleheads the very next season.
Since that time, bobbleheads have become a staple of most sporting events. In the 2018 season, 140 MLB promotion nights gave away bobbleheads, and there's no indication that the trend will be over any time soon.

Nods to Nodders
In the 20 years since their resurgence, bobbleheads of all kinds have been made for better or for worse, including one of Derek Jeter that looked nothing like him. Here's a look at a handful of memorable ones.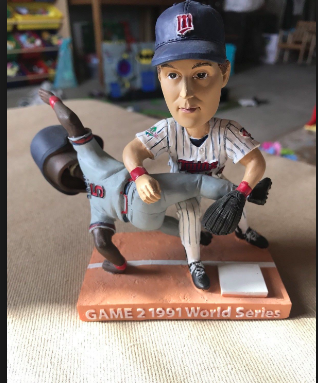 1991 World Series Controversy. Getting far away from the typical one-player bobblehead, the Twins gave away this bobblehead in 2011 that depicts a controversial play involving Kent Hrbek and Ron Gant in Game 2 of the 1991 World Series. Of course, the Twins benefitted from the highly controversial call.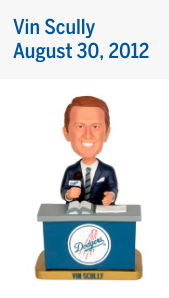 Vin Scully. If any non-player deserves a bobblehead, it's Vin Scully. The Dodgers honored their long-time announcer with this behind-the-mic bobblehead in 2012, as well as another one four years later to commemorate his final (67th) season of broadcasting with the team in Brooklyn and Los Angeles.John Adams. Speaking of non-player bobbleheads, you know you're a dedicated fan when a Major League team honors you with your own bobblehead (or bobble-arm) night. Either that or the Braves had no one better to honor that 2006 season, but the drum-beating regular was honored in a way no other MLB fan has been.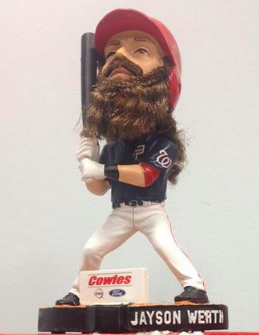 Jason Werth. You can find Werth's bobbleheads on lists of the best and the worst. One was even re-issued. But this one makes our list for being one of the few "bobble-beards" out there.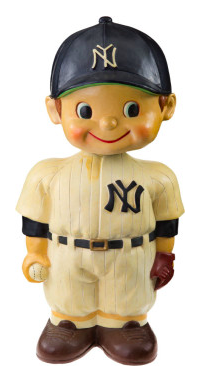 Rare Yankees Nodder. This 14-inch (larger) bobblehead, from 1961-62, supposedly sold at auction for nearly $58,000. It was reportedly one of only two in existence.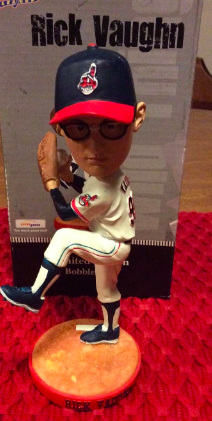 Ricky Vaughn, Wild Thing. Again, the Braves look to non-players to attract (or thank) their fans. But really, who hasn't seen "Major League" and doesn't know who Ricky Vaughn is? All baseball fans can appreciate this one.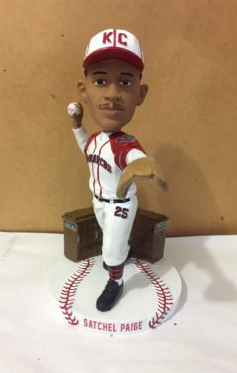 Satchel Paige. The Negro League History website released a slew of bobbleheads of the greatest players of the Negro Leagues, including this one of Satchel Paige. Others include Josh Gibson, Cool Papa Bell, and Buck Leonard.
Final Thoughts
If you poke around the internet, you'll find a bobbleheads for every MLB team and hundreds of players and non-players. Some are fun, some are ordinary, some are perplexing (like those that look nothing like the player, or those that seem to be one bobblehead that has been modified with another player's name and new paint).
If you keep your expectations low and your mind open, you should find a few that you might want to buy online.
Or just by a ticket to an upcoming game.
Resources; Ebay.com; Bobbleheadhall.com; mlb.com/dodgers/bobbleheads; mlb.com/cut4 greatest-bobbleheads; wbur.org/onlyagame/bobblehead-history; nesn.com/2014/06/jayson-werth-bobbleheads; negroleaguehistory.com