Let's (Look Back in Time and) Get Ready for the 1923 Season
$2 will buy a ticket and plenty of hot dogs, peanuts and Cracker Jack.
If you're an MLB fan, you're getting excited to root for your team in the 2023 season. Who is it? The Marlins? The Astros? How about the Diamondbacks or Rockies?
Before we look ahead to this season, let's look back—way back—100 years ago, to the 1923 season and get ready to follow it, as if we've been transported through time.
Along the way, we'll point out some of the things that are different about the game...vastly different from the 2023 season that's coming up.
In 1923, does your current team even exist?
There are only 16 teams in all of baseball in 1923, eight in each league. (One hundred years later, there are 30). Here are the American and National League teams you can root for: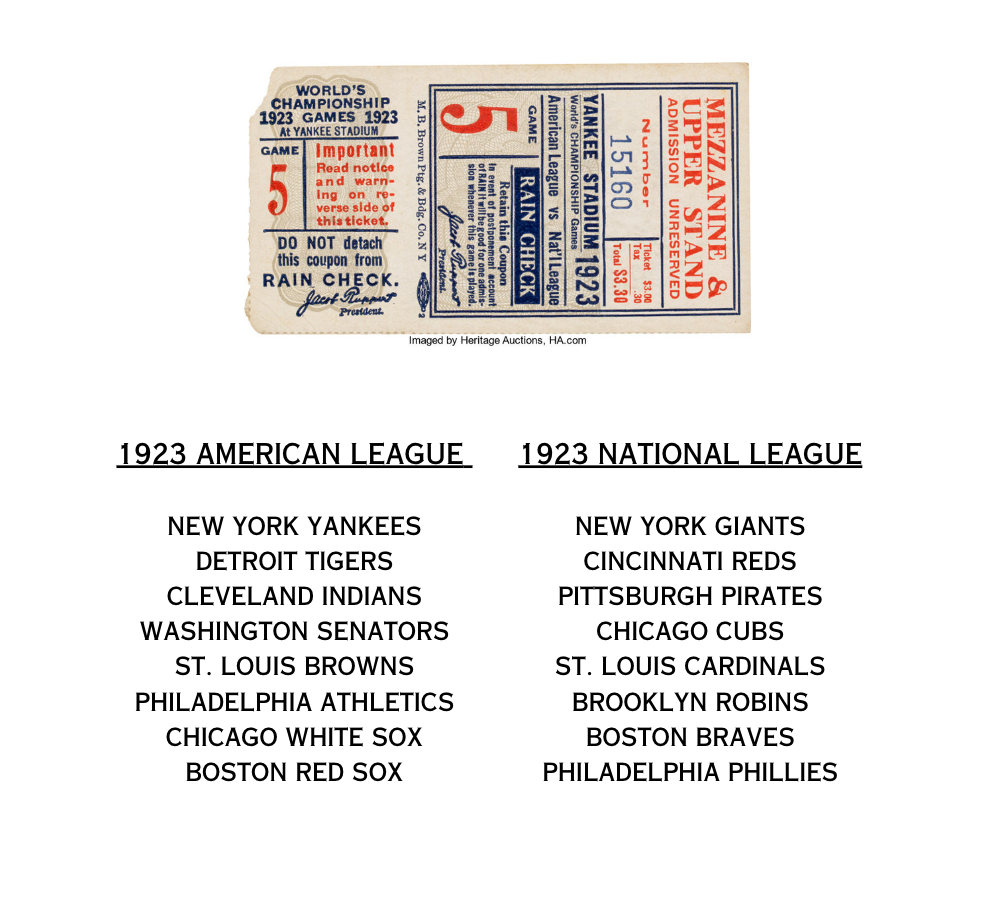 So, if you're a Rockies, Marlins, Angels or Astros fan, you're out of luck. In fact, there were absolutely NO teams west of the Rockies until 1958, when the Dodgers and Giants moved to the West Coast.
St. Louis fan in 2023? You can root for either the Cardinals in the NL or the Browns in the AL. The Browns eventually move to Baltimore and become the Orioles.
No Dodgers this upcoming 1923 season? No, and yes. There's a team that will eventually be called the Dodgers, but for now they're called the Robins, in honor of their manager.
Ready to watch or listen to tonight's game? You're outta luck!
This is 1923, so there aren't any night games in baseball, and there won't be any until 1938, when the Cubs play the very first game under the lights.
Well, at least you can tune in to the game on TV.
No such thing.
The first baseball game won't be broadcast until 1939, when Red Barber will broadcast a summer contest from Ebbets Field. Well, at least there's radio to follow your team.
Not so fast again!
Even radio broadcasts are not commonplace in 1923. In fact, it was only in the middle of the 1921 season that the very first radio broadcast of a Major League game took place. The World Series was broadcast on radio that year too, but the broadcasters weren't even there! They faked it from a studio by reading a "teletype" of the game.
Fact is, baseball won't be broadcast regularly on radio for a handful of years. Even in the 1930s, some owners will refuse to broadcast games, thinking it will keep fans away from the games.
(In 2023, there aren't too many people who read a daily major newspaper.) In 1923, you'll need to subscribe to a daily to find the results of the previous day's game.
Grab a ticket for Opening Day at Yankee Stadium.
If you're in New York, you're in luck. Yankee Stadium will have its grand opening this season. Babe Ruth has been on the Yankees for a few years now, and his team plays their first game on April 18, 1923.
The Yankees will defeat the Boston Red Sox, the Babe's former team, 4-1
Ruth will hit a three-run home run into right field
John Phillips Sousa will lead his band in playing the "Star-Spangled Banner"
Yankee Stadium is the first three-level stadium built
How much will a ticket cost? An upper box seat will run you $1.65. (Recently, a ticket from that game sold at auction for $7,200. And tickets for Opening Day 2023 at Yankee Stadium are going for over $1,000 on Ticketmaster.)
No "Take Me Out to the Ballgame," but there is a 7th-inning stretch.
You can save your voice on Opening Day 1923. That song, which was written in 1908, won't be performed at a Major League game until 1934, during the World Series.
You'll enjoy the 7th-inning stretch, at least. That tradition started at a game in 1910, when President Taft attended a game in Pittsburgh. When he stood up to stretch his legs just before the home team came up in the bottom of the 7th, the crowd assumed he was leaving...so they all stood up too, out of respect.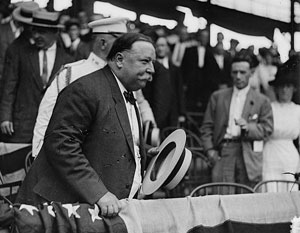 What will a hot dog and a beer cost you in 1923? (Make that a Coke?)
(In major metropolitan cities, the cost of going to a ballgame in 2023 has become unreachable for many families.) But what will a hot dog and beer cost you in 1923?
A hot dog will run you just 10 cents at Yankee Stadium, (equivalent to around $1.50 in today's money…shows you how overpriced stadium food is now!)
A beer? No luck! Prohibition is in place, so selling alcohol is illegal
Peanuts, Cracker Jack and a soda will cost about five cents each
You'll find those prices to be about the same at any stadium you visit in 1923.
How about last year?
Here's some interesting news from the previous season as baseball readies for the 1923 season:
Ken Williams of the Browns won the home run title last year with 39 homers, compared to Ruth's 35…Ruth hit 59 in 1921
He was also the first player to hit three homers in a game since 1900
Pitcher George Uhle of Cleveland won 22 games and was the first pitcher to win more than 20 games since the turn of the century
Rogers Hornsby hit in 33 straight games
The Cubs met the Phillies in August in the highest-scoring game in history (at the time)—26-23
The playoffs are between two teams: the NL and AL pennant winners.
If your team doesn't win the pennant this year, your season is over. And if your boys finish at the bottom of the list, journalists will refer to them as a "second division" team. (That's a term you never hear anymore.) It won't be until 1969 that the AL and NL will split up into two actual divisions each, East and West.
Last year, the New York Giants (who will move to San Francisco in 35 years) beat the Yankees to take the 1922 World Series.
This year, the Yankees will get their revenge: Facing the Giants for the third straight time in the Fall Classic, the Yankees will defeat their rivals in six games.
It will be the Yankees' very first World Series title, and WEAF in New York is the first station ever to call a World Series on radio.
---
Resources: Wikipedia.org; baseball-reference.com; "The World Series: An Illustrated Encyclopedia of the Fall Classic," Joh Leventhal; Tess Press; "20th Century Baseball Chronicle" Publications International Ltd.; "Baseball: An Illustrated History," Geoffrey C. Ward. Alfred A. Knopf publisher.