They keep on tinkering with the game, supposedly to help improve it. Ballclubs keep on tinkering…with the shift, sabermetrics and changing the way hitters hit and pitchers pitch. The League keeps making changes too: a pitch clock and limiting trips to the mound, plus they're experimenting with larger bases and banning the shift in the Minors.
Now, electronic umpiring is working its way up the Minor Leagues, and it might reach the Major Leagues in some form sooner or later. But count on later.
If you're wondering if this is a response to the quality of umpiring last season, it's not. Turns out MLB has been quietly testing "robot" umps for a few years now in some corners of the Minor Leagues.
It's referred to as ABS, for the Automated Ball-Strike system, but it's easier to think of it as an electronic—or better yet, digital—strike zone. MLB first tested it in the Atlantic League in 2019, pre-pandemic. Later, they tried it out in what's called the Low South League.
Coming to Triple-A Games soon.
This spring, the plan is to use ABS in Triple-A ball in the Southwest League, which means players coming up through the ranks might need to get used to electronic balls and strikes instead of flesh-and-blood umpires.
If you want to see ABS in action, check out the schedules for the following Minor League teams in the Triple-A West Division that will probably be taking the field with a robo ump calling balls and strikes: Albuquerque Isotopes, Charlotte Knights, El Paso Chihuahuas, Las Vegas Aviators, Oklahoma City Dodgers, Reno Aces, Round Rock Express, Sacramento River Cats, Salt Lake Bees, Sugar Land Skeeters and Tacoma Rainiers.
The robo ump can't do it all itself, which is why MLB announced it has employees to operate the Automated Ball-Strike system this spring.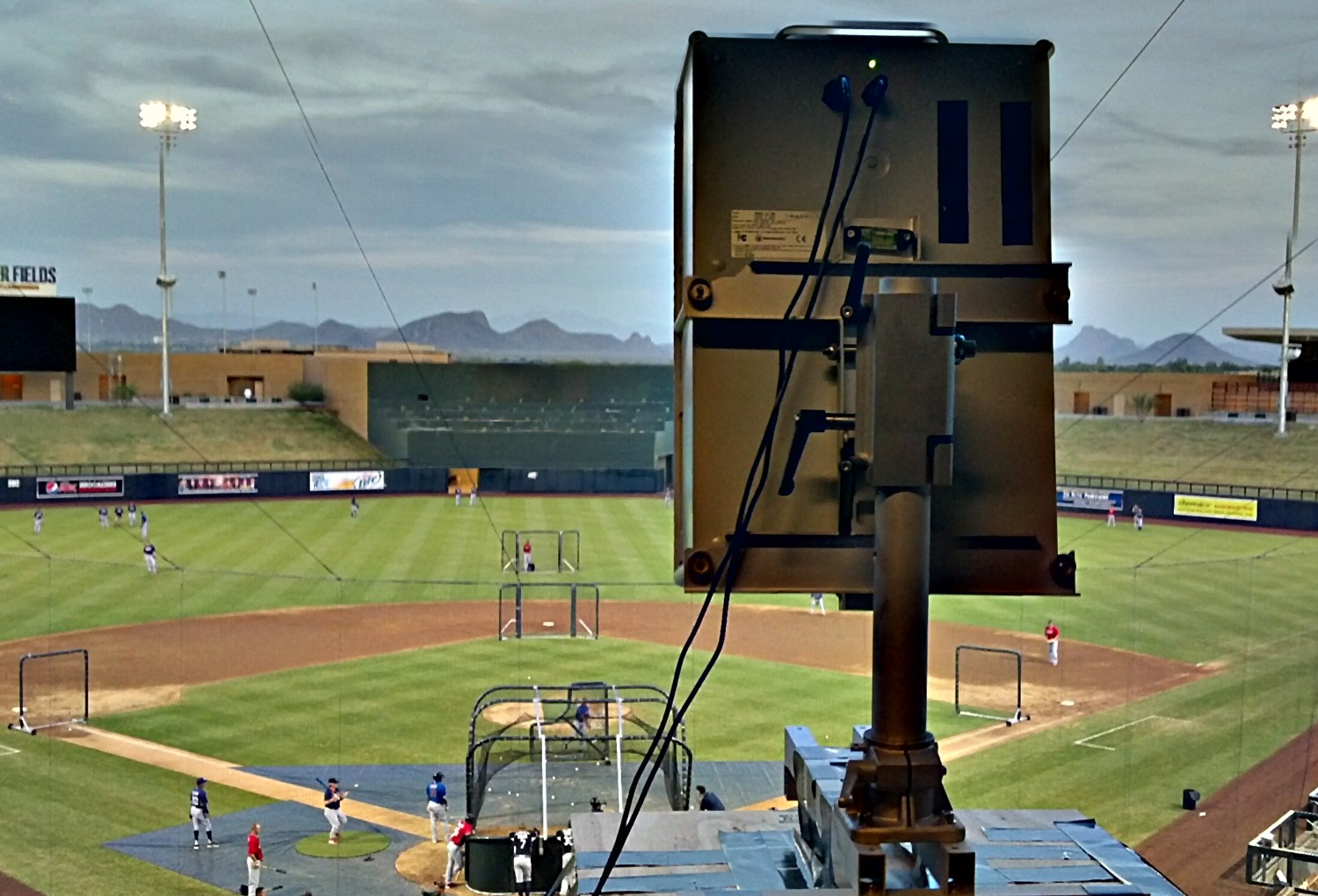 The Trackman system uses Dopler radar technology to capture upwards of 27 different and unique measurements per pitch/hit, and the TrackMan tagging software collects all standard and advanced statistics driven by on-field play. (Photo courtesy of trackman.zendesk.com)
Is everyone behind the idea of a robo ump behind the plate?
There are a handful of MLB managers who already think it's a good idea: Marlins Manager Don Mattingly, and it sounds as if Dodgers Skipper Dave Roberts is open to the idea...somewhat. In a talk on ESPN some time ago, he said that while it could be hard to imagine not using a real ump to call pitches, "the part of getting it right outweighs it a little bit."
But what is this system all about? Here are some answers to some basic questions about ABS.
Is there a robot or something behind the plate? No, not at all. This isn't like that RoboCop movie. There's still an umpire standing behind the plate—only he's not calling balls and strikes. He's reporting them, with the assistance of a system called TrackMan―a "3-D radar dish," set up behind home plate, affixed to the front of the stands somewhere.
How does it account for a player's size or stance? Evidently, TrackMan has been configured to calibrate each batter's size and stance—and automatically adjusts the strike zone for that batter. That's no different from today, where Aaron Judge and Jose Altuve have different strike zones because of their height difference.
How are balls and strikes actually called? The human umpire behind the plate will still be indicating when a pitch is a ball or a strike to the batter, team and crowd—but instead of calling the pitch, he'll simply be relaying the decision made by the robo ump, via a wireless headpiece connected to TrackMan.
This all happens in milliseconds.
The pitcher throws. TrackMan records the pitch and determines if it's a ball or strike. There's no judgment involved. As a radar gun records a ball's speed, TrackMan instantly determines if the ball has crossed the strike zone or not.
The umpire is allowed to override it with his own call if something goes wrong, such as when a ball bounces first and then crosses the plate.
How did it work in test games? "Just a bit outside...wait! That's a strike!" With the ABS system calling the game, expect some of that.
As with all new technology, the kinks haven't been worked out yet, and until they are, don't expect to see this at MLB games anytime soon.
Right now, with an actual umpire behind the plate, batters have a general idea of what their strike zone is. They also know what a called strike should look like. Even if it's close.
You find can clips of breaking balls that seem way off the plate—at least by the time the catcher gets it—that TrackMan will call a strike. To everyone who follows baseball, the pitch TrackMan registers as a strike sure doesn't look like one.
It seems as if certain breaking balls cause the most problems. Pitches that (seem to) break out of the strike zone will usually be called a ball by the home plate umpire. But with the ABS system, it will record the ball going through the strike zone and register it as a strike...no matter where the pitch ends up.
Will TrackMan make it to the Major Leagues? It's still in the testing and fine-tuning stages, so there's no rush for now. MLB knows the system has to be pretty foolproof to continue using it. As one Minor League coach stated, "I'm in favor of change and technology in general, and so were our coaches. But by the end of the season, I think we were all very much in favor of human umpires and were about ready to completely write off ABS."
In mid-2019, the Marlins lost a close contest on a called third strike on a 3-2 count with two men on base to end the game. Marlins Manager Don Mattingly wasn't happy with the call and the outcome. He made it clear to reporters after the game that the new technology couldn't come soon enough.
Mattingly was thinking (and maybe hoping and dreaming) that technology is coming to save the day. He probably wasn't aware that just one inning into the robot-umpire era, a coach in the Atlantic League was ejected for arguing a call.
The human umpire tossed him.
Resources:
https://www.cbssports.com/mlb/news/robot-umpires-h...
https://www.cbc.ca/sports/baseball/mlb/mlb-robot-u...
https://technology.mlblogs.com/developing-mlbs-aut...
https://www.espn.com/mlb/story/_/id/33110161/robot...
https://www.npr.org/2021/03/12/976383147/minor-lea...
https://www.espn.com/mlb/story/_/id/33110161/robot...