His stats, which include four no-hitters, don't convey his impact on the game, fans, writers and hitters.
Sandy Koufax, who pitched 12 seasons for the Brooklyn and Los Angeles Dodgers from 1955 through 1966, did the exact opposite of what most pitchers do in a career: They have a few good years early on, hit their stride and then their skills and numbers decline (naturally) as their career winds down. Koufax flipped the script.
His final six years, especially the last four, are nearly unmatched in baseball history. And yet, when he was only 30 years old, he retired from baseball.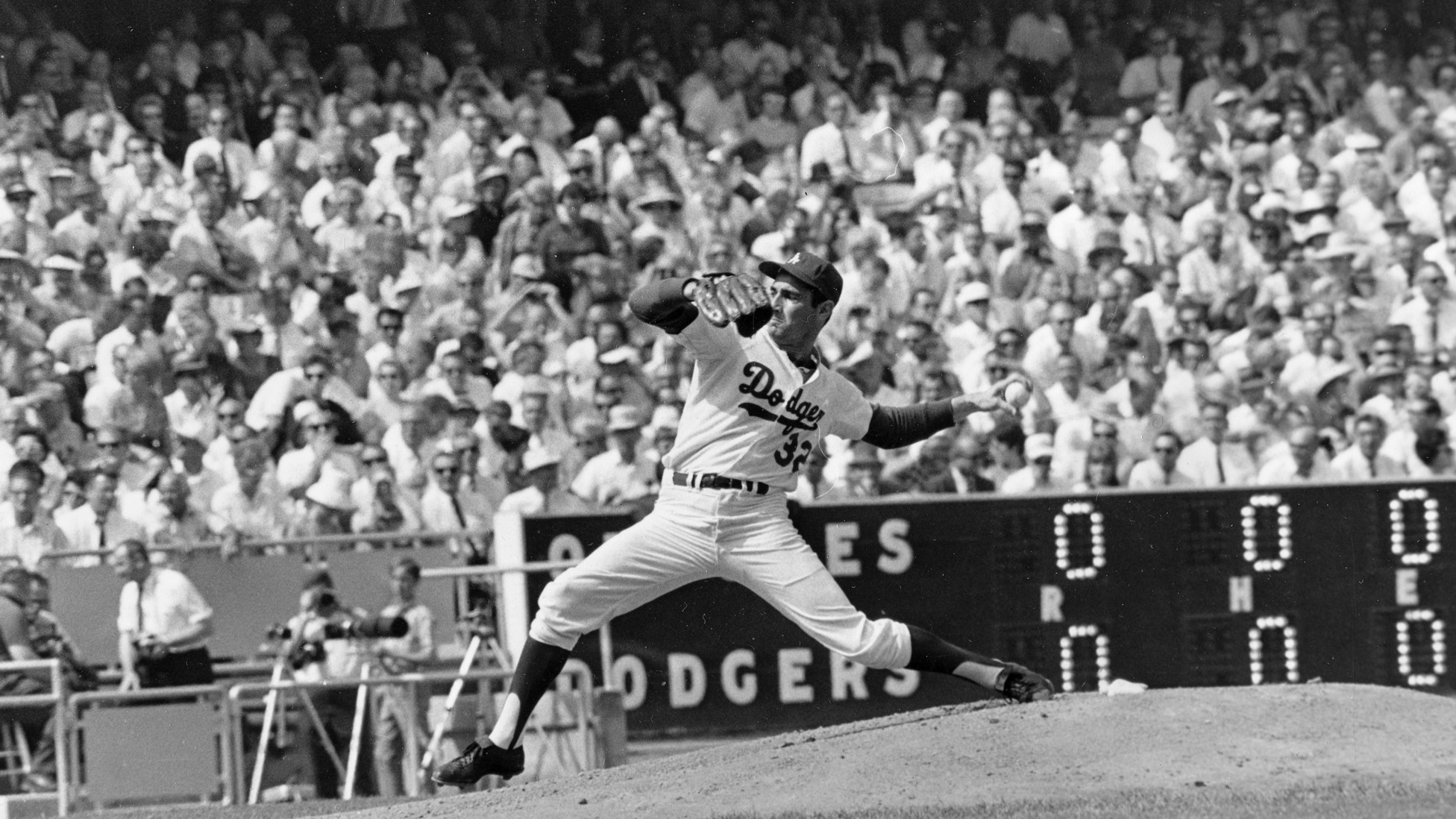 Not a good beginning.
Koufax started out and barely made a bleep on the radar his first six seasons. He was wild early on at Brooklyn. As in crazy wild. "When he first came up," Duke Snider was quoted as saying, "he couldn't throw a ball inside the batting cage." That wasn't an exaggeration. He had a 36-40 record and a career ERA of 4.1. One day during Spring Training in 1961, Koufax was encouraged by catcher Norm Sherry to change his approach to getting batters out.
He did. It changed everything, and Koufax was a different pitcher from then on. He went on a tear over the next six seasons.
1961–1966: Too much Koufax.
When he was on the mound, he was in command of the outcome. "Too much Koufax" is what Willie Mays said when his Giants were kept out of the World Series in the mid-sixties after Koufax pitched the Dodgers to the pennant on the last day of the season. Here are some key highlights:
Koufax led the Majors in strikeouts four of his last six seasons: 269 batters in 1961, 306 in '63, 382 in '65 and 317 in '66 (and yes, Koufax held the season strikeout record until Nolan Ryan broke it in 1973)
Koufax pitched the Dodgers to the pennant in 1963, '65 and '66
He won five straight ERA titles from '62 to '66
He threw a no-hitter in four consecutive seasons, 1962–65, which included a perfect game against the Cubs in '65, a team with three future Hall of Famers
He won three Cy Young Awards in an era when only one was given for the entire Majors
His post-season stats are made up entirely of World Series games, including seven starts
In World Series appearances, he tossed 57 innings and posted an ERA of 0.95, the lowest in history for a pitcher with at least five WS starts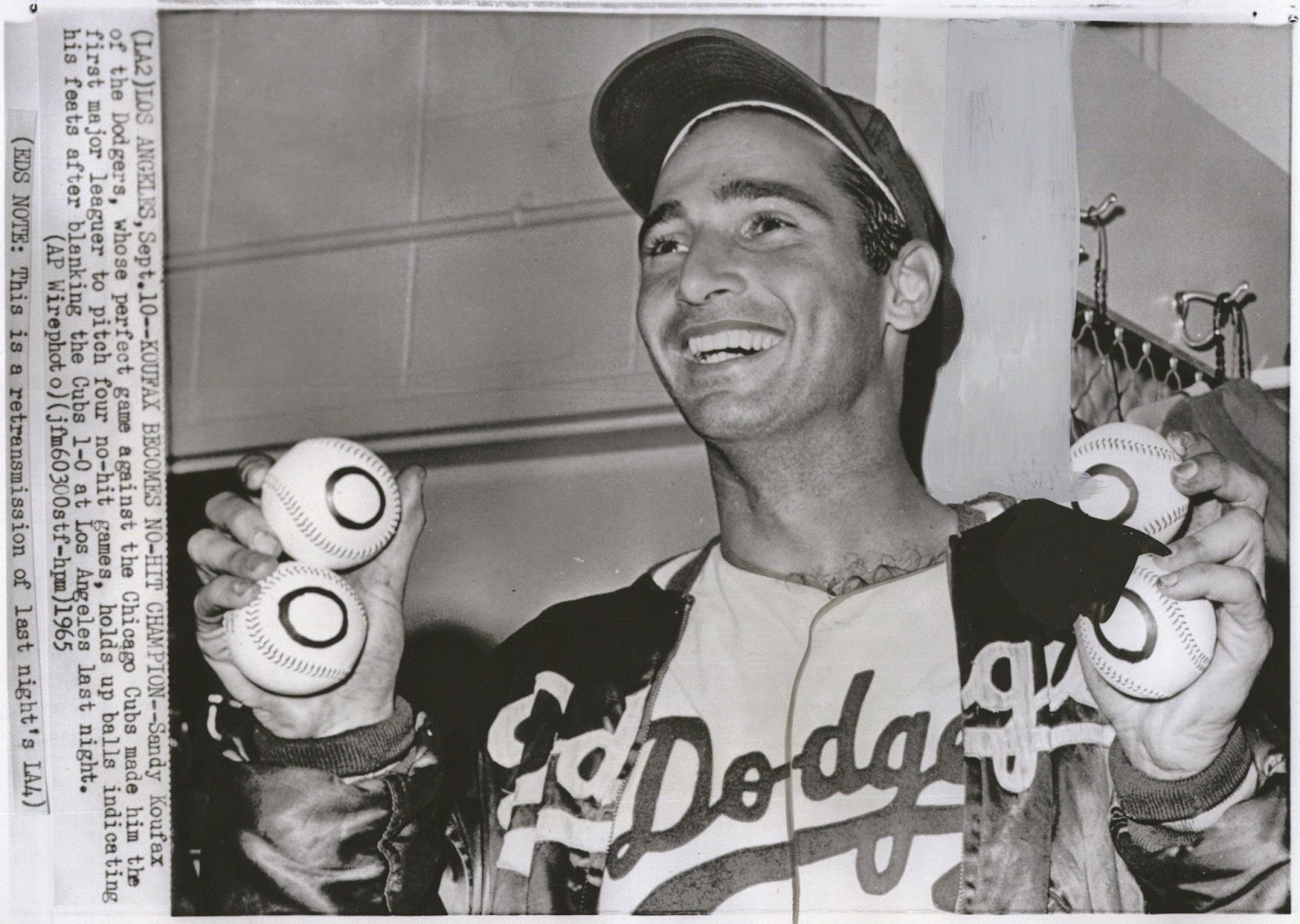 1963: A great year in the middle of a great stretch.
Koufax's record in '63 was truly remarkable, culminating in two World Series wins against the New York Yankees, which revived what had been the Brooklyn vs. New York subway series. Here are some highlights from that season:
He led the league with 25 wins, and an ERA of 1.88
He threw 11 shutouts
He struck out 306 to lead the Majors
He was the NL MVP and won his first Cy Young Award
He made 75% of his starts on three days' rest
He struck out 15 Yankees in his Game 1 win; he pitched a complete-game victory and allowed only one run in the Game 4 clincher
1965: A memorable decision.
In 1965, he chose not to pitch Game 1 of the World Series because it fell on Yom Kippur, the holiest day in Judaism. It was controversial at the time, but people respected his decision. Koufax said, "I wasn't trying to make a statement; I was being respectful."
To this day, it's what many historians—not just for baseball or sports—remember about Sandy Koufax, and what they admire him for.
1966: A great year (and the final one).
Koufax pitched in tremendous pain for his last several seasons. He was suffering from an arthritic elbow, caused by the stress of throwing so hard for so long. He underwent continuous treatments and cortisone shots during his finals seasons. He rubbed on ointment that burned his skin. His elbow swelled grotesquely between starts.
But he kept on pitching, through the 1966 season and the World Series. Not only did he pitch through the pain, but he also pitched all the time through the pain. He also excelled despite the pain. Here's what he accomplished in the 1966 season:
He had a record of 27-9 with 27 complete games
He struck out 317 batters, leading the Majors
He won the Cy Young Award, for the third time
He had an ERA of 1.73
Ironically, while he was cementing his status as the game's best pitcher in 1966, few knew then that they'd never see him pitch another MLB game.
A painful decision: Coming off the mound.
On November 18, 1966, Sandy Koufax announced his retirement to a crowded room of reporters. The thought of permanent elbow damage and disability was the reason. There was no surgery to repair pitching elbows back then.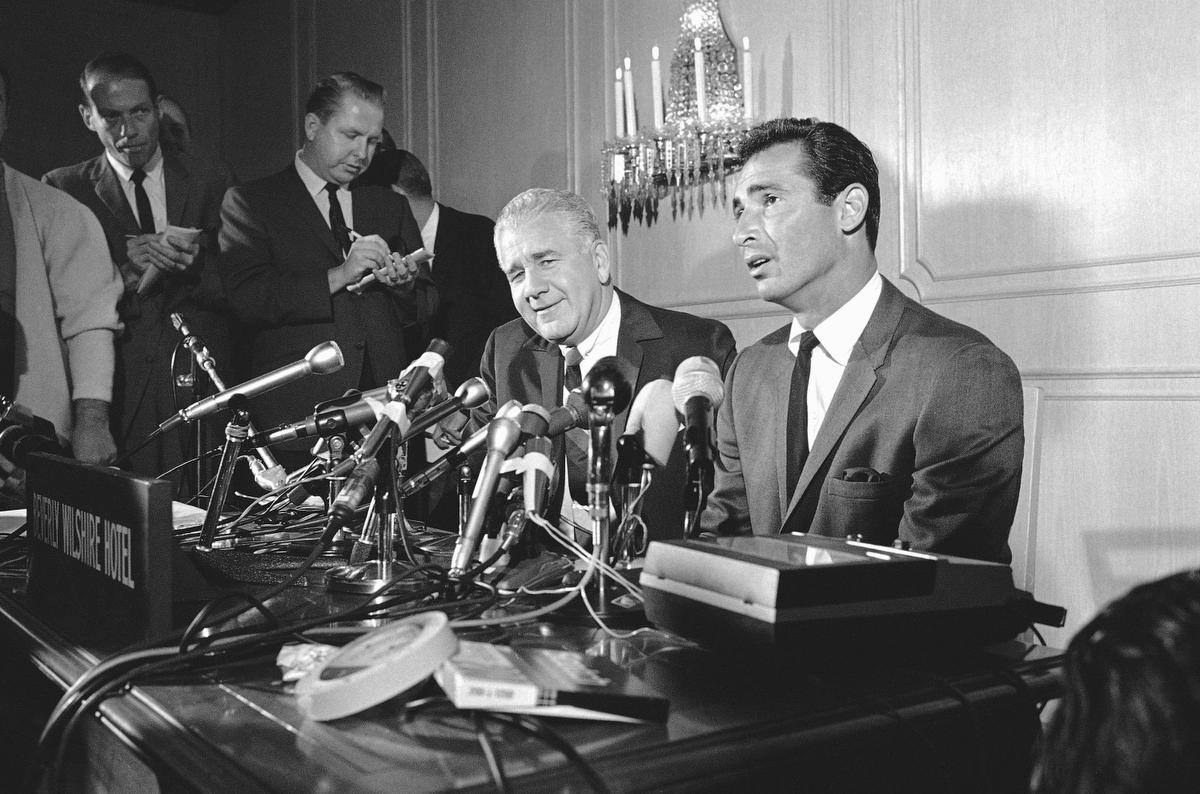 He was only 30 years old. The decision was shocking, and it was final. Reporters applauded and cried. It was a sad day for Los Angeles sports fans and baseball fans everywhere. Sandy was in his prime. "I don't regret one minute of the last 12 years," he said, "but I think I'd regret one minute that was too many."
Six years later he would be enshrined in MLB's Hall of Fame. To this day, he is the youngest player to be enshrined.
Koufax is the only pitcher in MLB history to win a Cy Young Award in his final season.