Mike Trout, captain of the World Baseball Classic Team USA squad, is looking to help his team repeat as champions. Or maybe it's his chance to put together an MLB Dream Team of his own. "The main reason we're here is to win this thing," Trout said. "All the other stuff is great—being able to play with each other and getting to know each other a little bit more.
"But there's only one thing on our mind, and that's trying to win this whole thing."
It's been seven years (2016) since the last World Baseball Classic. It's supposed to happen every four years, but the pandemic delayed everything. Now we're just one month away from seeing 20 teams from across the globe joining to compete to see which country will claim the title of World Champions.
You can catch some of the action in person.
If you want to see Team USA in person in the World Baseball Classic (WBC), you'll have two chances—in the opening round of Pool C in Phoenix at Chase Field (home of the Diamondbacks) March 11th through the 13th, or in two exhibition games in Phoenix on March 8th and 9th as a warmup right before competition starts.
And if Team USA advances to the WBC Quarterfinals and beyond, they'll play in Miami at loanDepot park, home of the Marlins. Here's where and when Team USA starts in this year's WBC: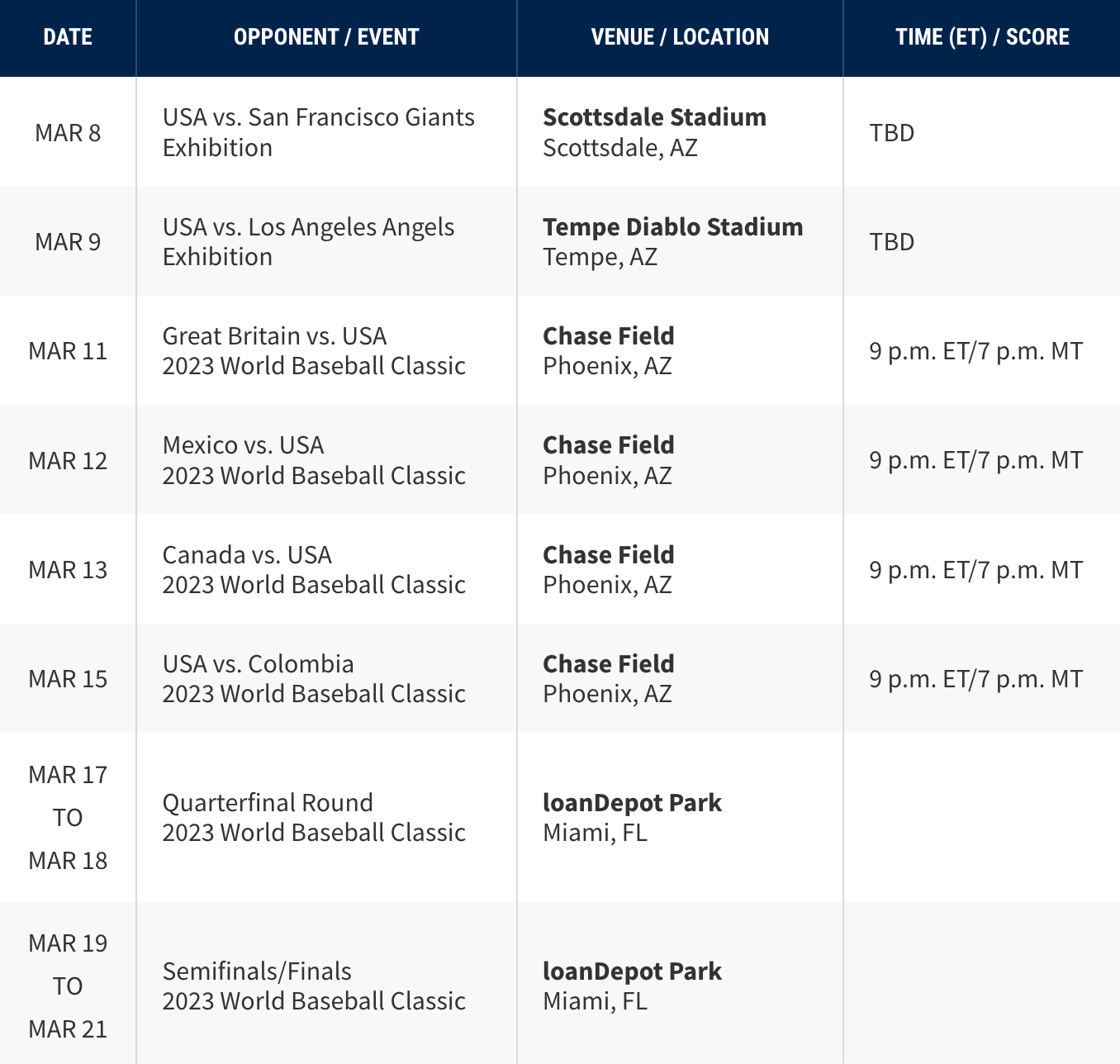 Tickets are on sale now for the USA-based games and all others. If you go online, you can find tickets for the exhibition and tournament games.
How does the tournament work?
There are four phases to the tournament:the opening round, quarterfinals, semifinals and finals.
The opening round:
Remember, there are four pools (A,B, C and D). They're the mini divisions with five teams each
In the first round, each team plays the other in their pool. The USA's first-round games take place March 10–14
The top two clubs from each five-team pool head to the quarterfinals.
Quarterfinals:
Teams that advance from pools A and B will play the quarterfinals in Japan March 15–16
Teams from pools C and D will play in Miami March 17–18
Semifinals and finals:
The semifinals (March 19–20) and championship game (March 21) will take place in Miami.
Get ready to follow the tournament.
Of course, if you're cheering for your personal home country's team, you'll need to know when and where they're playing.
Team USA: Jr. Griffey is the hitting coach!
Team USA will be managed by Mark DeRosa, who played on the 2009 U.S. squad. His dugout crew features Hall of Famer Ken Griffey Jr. as hitting coach and former Yankee and five-time World Series champ Andy Pettitte as pitching coach. Other coaches include Jerry Manuel, Lou Collier, Dino Ebel and Dave Righetti.
Here is the powerful Team USA lineup:
C J.T. Realmuto, Philadelphia Phillies
C Will Smith, Los Angeles Dodgers
1B Pete Alonso, New York Mets
1B Paul Goldschmidt, St. Louis Cardinals
2B Trevor Story, Boston Red Sox
2B Jeff McNeil, New York Mets
3B Nolan Arenado, St. Louis Cardinals
3B Bobby Witt Jr., Kansas City Royals
SS Tim Anderson, Chicago White Sox
SS Trea Turner, Philadelphia Phillies
OF Mookie Betts, Los Angeles Dodgers
OF Bryce Harper, Philadelphia Phillies
OF Cedric Mullins, Baltimore Orioles
OFMike Trout, Los Angeles Angels
OFKyle Tucker, Houston Astros
OFKyle Schwarber, Philadelphia Phillies
RPDavid Bednar, Pittsburgh Pirates
RP Dillon Tate, Baltimore Orioles
RP Devin Williams, Milwaukee Brewers
RP Adam Ottavino, New York Mets
SP Clayton Kershaw, Los Angeles Dodgers
SP Adam Wainwright, St. Louis Cardinals
SP Nestor Cortés, New York Yankees
SP Kyle Freeland, Colorado Rockies
SP Brady Singer, Kansas City Royals
SP Merrill Kelly, Arizona Diamondbacks
Which country are you cheering for?
Here are the 20 teams in the 2023 World Baseball Classic:
Australia
Canada
China
Chinese Taipei
Colombia
Cuba
Czech Republic
Dominican Republic
Great Britain
Israel
Italy
Japan
Mexico
Netherlands
Nicaragua
Panama
Puerto Rico
South Korea
United States
Venezuela
A talking Trout.
Mike Trout announced he would play for Team USA last July. After his announcement, he said other big-name players contacted him. "A lot of players reached out," Trout said. "It's going to be something special getting to represent Team USA and go out there with the whole country behind you."
Resources: sportsnaut.com/world-baseball-classic-2023; facebook.com/MLBNetwork/posts
mlb.com/World-Baseball-Classic; en.wikipedia.org/wiki/World_Baseball_Classic; clickondetroit.com/sports; bleacherreport.com/clayton-kershaw-to-play-for-team-usa