Guess what happens if you do a search on the question, "Who was the greatest hitter that ever lived?"
The name Ted Williams pops up, again and again. It's not just about the stats he accumulated, or the fact that he was the last player to hit at least .400 in a season, or his batting titles, or his military service during his prime playing years.
It's all of it.
Maybe that's why at the 1999 All-Star Game in Boston when Ted Williams, the "Splendid Splinter," was introduced before the game, driven onto the field in a golf cart, all of the players surrounded him to shake his hand and greet him, with smiles on their faces like Little Leaguers'. (See the link below.)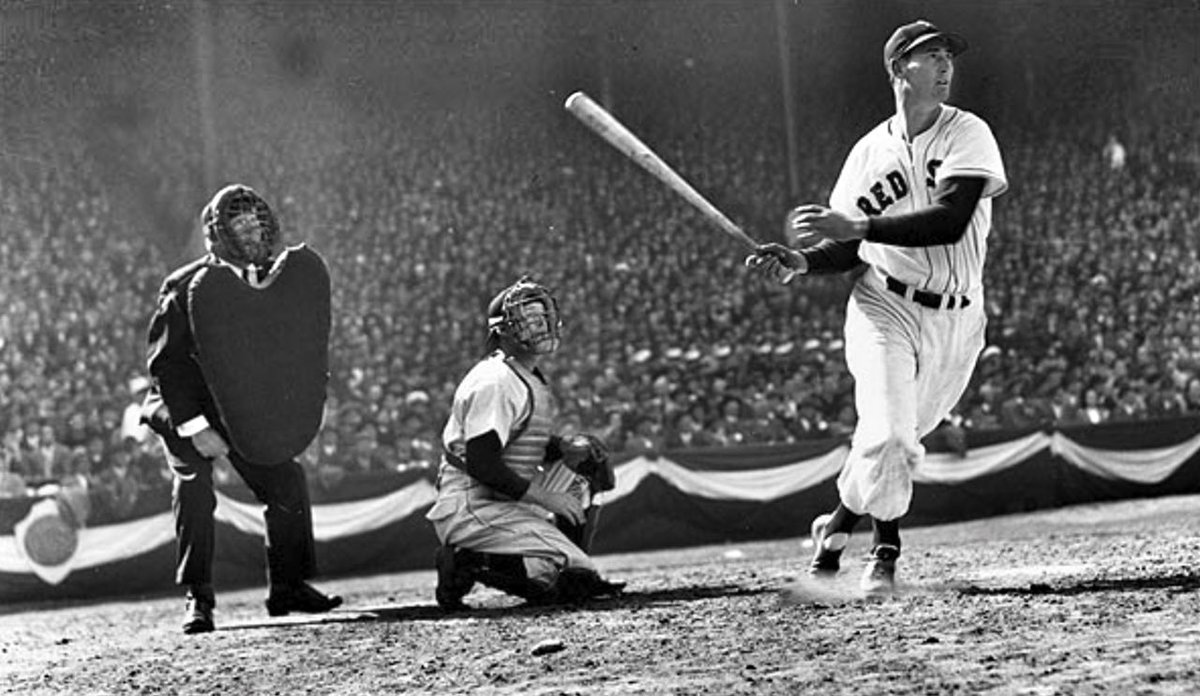 Teddy Ballgame
Ted Williams defines "baseball player" for generations of fans, in the same way that Babe Ruth, Lou Gehrig, Willie Mays, Hank Aaron, Sandy Koufax, Mickey Mantle and others do. They were the greats when they played, and their legends will always live on...the sportswriters of the day called Williams "Teddy Ballgame."
Williams wanted to be remembered not just for playing baseball, or setting records, or winning championships and accolades. Here's where he set the bar for himself: "All I want out of life is that when I walk down the street, folks will say, 'There goes the greatest hitter that ever lived.'"
Does that line ring a bell? It should if you've ever seen the movie The Natural, starring Robert Redford. That's what Roy Hobbs, his character, says was his dream growing up. By the way, Hobbs wore number 9, just like Ted Williams did.
In fact, Redford said in an interview that Roy Hobbs wears the number 9 in The Natural and hits a home run in his final at-bat because Williams had. "Ted was my hero when I was a kid. He was from California, and I was from California. He was left-handed, and I was left-handed. And I wanted to be a professional ballplayer." In another interview, Redford, who had played some college ball, said he used a "modified Ted Williams stance" at the plate for the movie.
Everyone wanted to hit the way number 9 did. But that's not the memorable number everyone connects with Ted Williams.
The number everyone knows: .406
Williams entered the Majors in 1939 at the ripe age of 20, playing for the Boston Red Sox. He was a long way from his hometown, San Diego, California. A year earlier, he had driven from California to Florida to make Spring Training and arrived late. When he finally showed up, the clubhouse attendant said, "The Kid is here."
The Kid was ready for the Majors. In his rookie season, he hit .327, belted 31 homers and drove in 145 runs to lead the League, the first rookie to do so at the time. He came in fourth for the Most Valuable Player award. The next year, he batted .344 with 43 doubles, 14 triples and 195 hits.
Two years later, however, he made history with an average that's held for the past 81 seasons.

Image courtesy of the Ted Williams Foundation
To play or not to play to hit .400.
1n 1941, Williams wound up hitting .406 for the season, and he achieved it with a decision that is as remarkable as the results.
Williams' average going into the final games of the season was .400 when rounded up. He could have sat out the last day, a doubleheader, to preserve the number. But that wasn't how Ted Williams did things. He decided to play and reach .400 at the plate, not on paper. "I never wanted anything harder in my life," he said about the decision.
So, on September 28th, he put it all on the line against the Philadelphia A's. He went 6-for-8 over the two games and pushed his average to .406.
It hadn't been done since 1930, and it hasn't been done since. But that was in 1941. Ted was only 22 years old and had plenty more seasons ahead of him. But a little more than two years later, America was thrust into WWII.*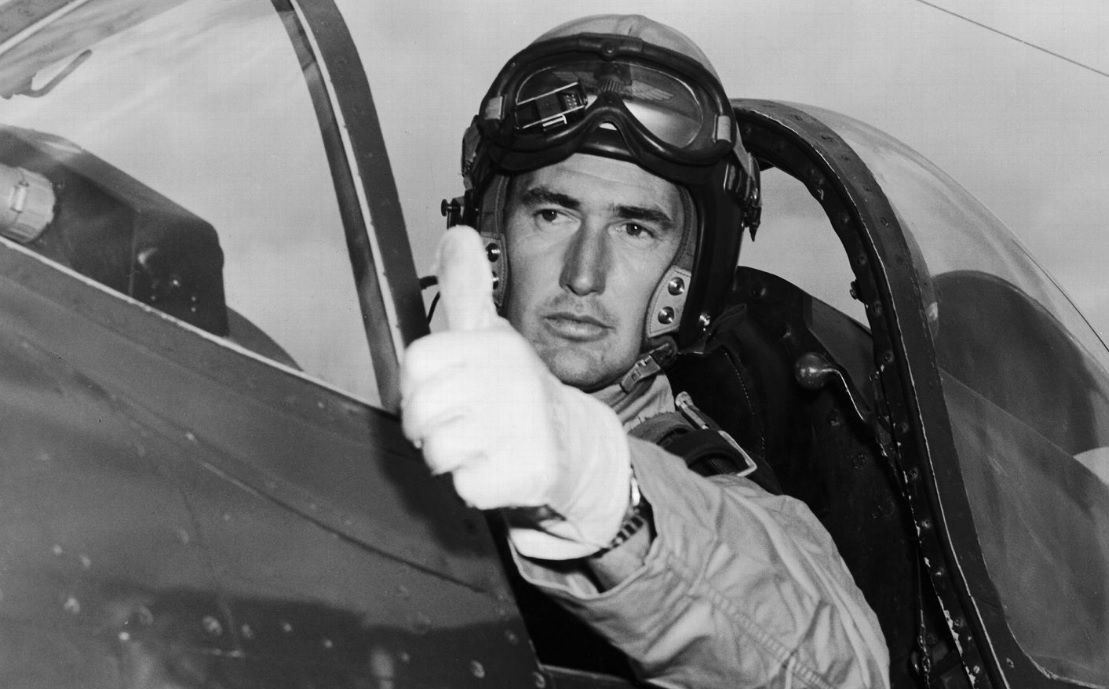 Ted Williams' 39-0 Still Greatest Record in Boston Sports History | Image courtesy of Boston.com
Ted Williams: Wartime duty
Williams would serve three years—and miss three seasons (1943–45) of his prime years—after he was inducted into the Navy in 1942 and trained to be a fighter pilot. He didn't see action, but he was proud of the fact he'd earned his wings and graduated at the top of his class. Rather than go for a general discharge, he signed up for inactive reserve to keep his commissioned officer status. He was thinking he'd never see wartime again.
As it turned out, Williams would lose most of the 1952 and '53 seasons when called back to active duty to serve as a pilot for the Marines, for whom he flew combat missions and had a few near-death experiences. He returned as a war hero. He was able to attend the 1953 All-Star Game, as a fan, and threw out the first pitch. He came in his civilian clothes, not wanting to draw attention to himself.
In 1946, his first season back, he won his first MVP award, batting .342, hitting 39 home runs and 123 RBI. He helped lead the team to the World Series against the St. Louis Cardinals, but they lost. It was his only World Series in his long career.
The next season, he won the American League Triple Crown of hitting, leading the League in homers, RBI and batting average. In 1949, he won the MVP award again and led the League in almost all offensive categories.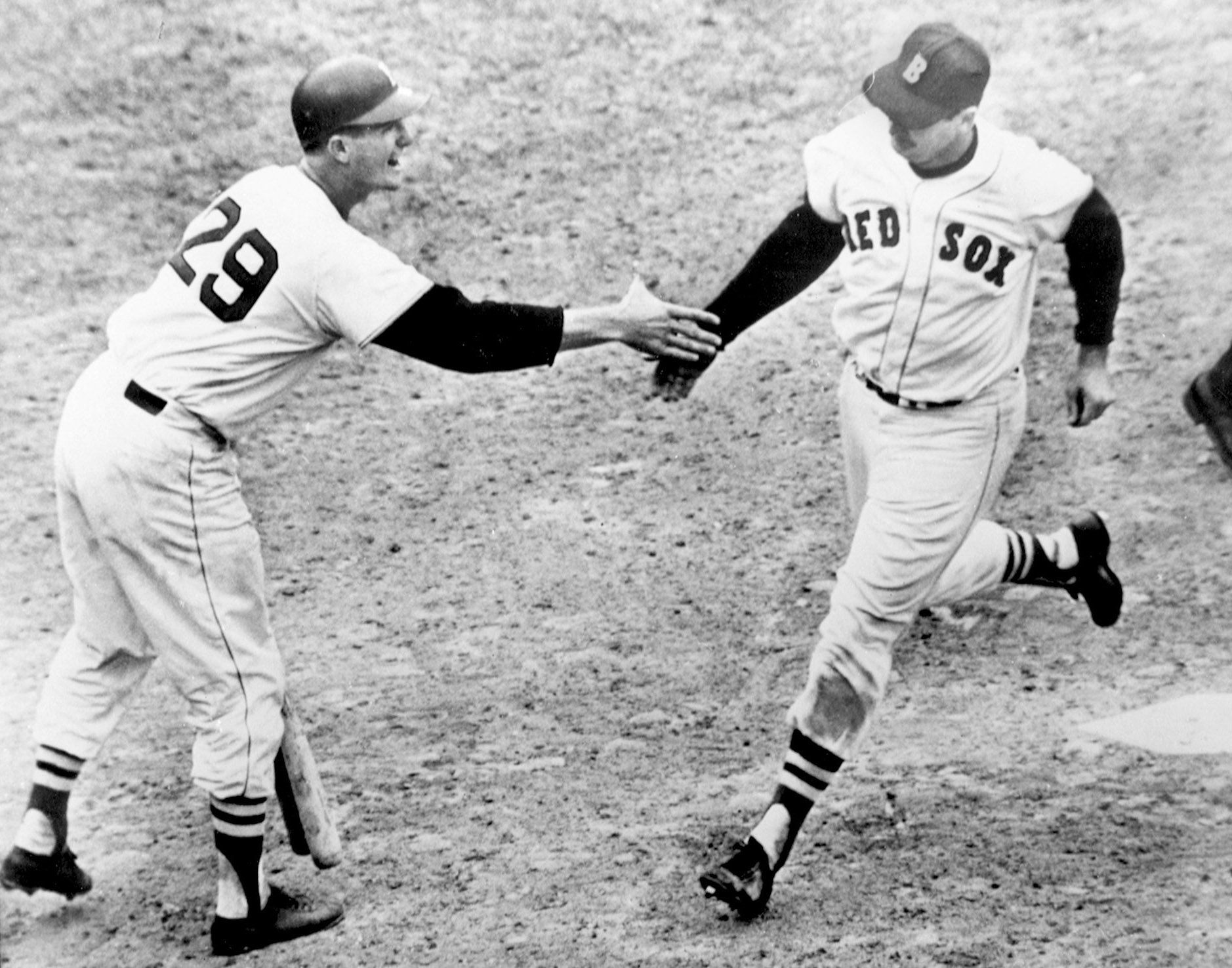 "Red Sox slugger Ted Williams crosses home plate at Fenway Park on Sept. 28, 1960 after his home run in eighth inning of his final Sox game in Boston." - Image and quote courtesy of time.com
Ted's last at-bat. Epic.
On September 28, 1960, exactly 19 years after he went 6-for-8 to hit .406, Ted Williams played his last Major League game for the only MLB team he had ever played for. He was 42 by the time the last game rolled around, but he was hitting well over .300 for the season and had 28 home runs.
In the eighth inning of the last game of the final homestand for Boston, Williams sent a home run off a Baltimore Orioles pitcher into the Red Sox bullpen. The Red Sox won 5-4.
Williams ended his career with a .344 batting average (fourth all time) and an on-base percentage of .482—the highest in baseball history.
*If you want to read about his military days, read this article on the Hall of Fame blog.
Here's a YouTube video of the 1999 All-Star Game featuring Ted Williams introduction.
Resources: mlb.com/news/five-facts-about-ted-williams; baseballreference.com/players/tedwilliams;
boston.com/ted-williams-all-star-home-run-video; en.wikipedia.org/wiki/Ted_Williams;
howtheyplay.com/best-Rookie-Seasons; baseballhall.org/hall-of-famers/williams-ted;sportslifer.wordpress.com/greatest-hitter-who-ever-lived; nesn.com/robert-redford-diehard-red-sox-fan; history.com/last-player-to-hit-400