Karen H., an avid L.A. Dodgers and MLB baseball fan, knows the name Jennie Finch and even recognizes her face. "I see her on the celebrity All-Star Game every year, and I know she played softball, so she must have been good. But that's all I know about her."
She's not alone.
Except for softball players and those in the game, that's all know most people know about Jennie Finch, who is considered by many to be the most famous softball player in history. Here's a look at Jennie Finch—a college, Olympic Games and media star, an ambassador for women's softball and an inspiration for young female athletes worldwide.
Jennie wanted to be a baseball player for the L.A. Dodgers.
Jennie Finch, born September 3, 1980, in La Mirada, California (Los Angeles County), started playing T-ball as a little girl, and later played softball, volleyball and basketball. She has two older brothers, who were also involved in sports. Softball was part of her life, and her teams won two ASA National Championships when she was 12 and 14.At La Mirada High School, she became a star pitcher on the mound for the girls' softball team. She left high school with a 50-12 win-loss record, which included six perfect games, 13 no-hitters, a 0.15 ERA and 784 strikeouts.
She grew up "freeway" close to UCLA and its renowned softball program and attended their games growing up (and dreamed of being the next Lisa Fernandez, the Bruins' star pitcher), but she chose to attend the University of Arizona, saying that she liked Tucson's smaller, college-town atmosphere. Her success there still attracted attention. "If you're a softball player, the whole city of Tucson knows who you are," she said in an interview.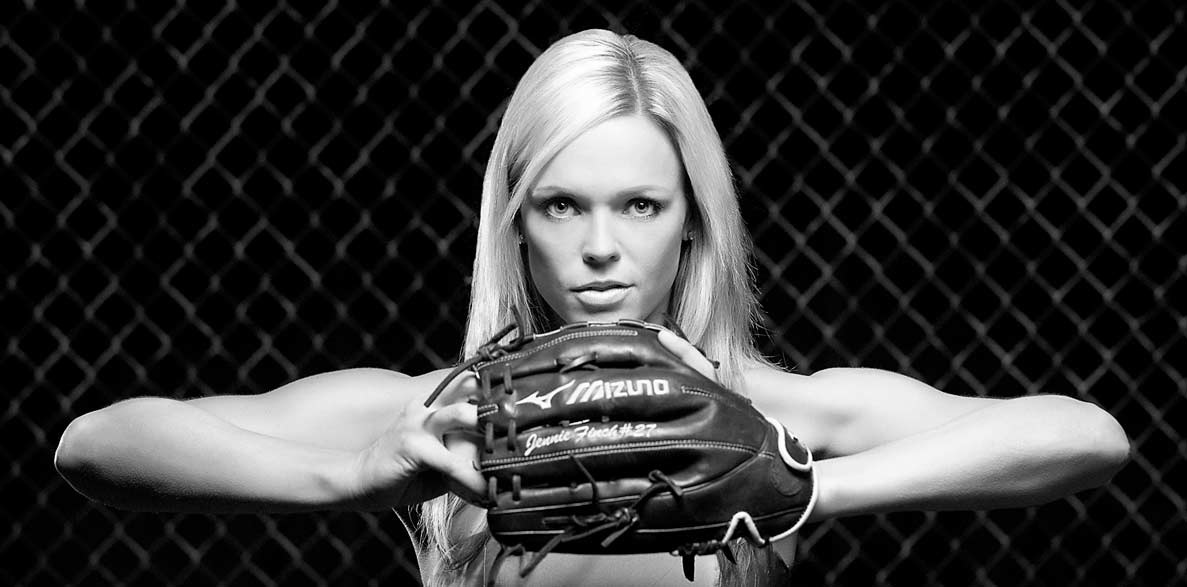 The college years: 1999–2002.
As a freshman for the Arizona Wildcats, she threw her first no-hitter, and the team made it to the College World Series. But she was just getting warmed up…
In 2000, she made First Team All-PAC-10 after a tremendous sophomore year in which she tore it up on the mound and at the plate. She led the team in home runs and slugging percentage and had her best batting average. As a pitcher, she got off to a 21-game winning streak before losing two games. She picked up right after that with another eight-game win streak, including two victories over the top-ranked team in the country. The team made it to the College World Series but didn't advance to the championship game.
Jennie's amazing 2001 season and National Championship.
She was out of the gate fast, with six straight wins and 31 consecutive scoreless innings. At the plate, she was a force, and in one memorable game hit two home runs and a double with nine RBI. She led the team to the College World Series for the third year in a row. Jennie had victories over California and Oklahoma to reach the finals. Jennie pitched the Wildcats to a 1-0 shutout victory over their PAC-10 rival Bruins to win the National Championship. She was named MVP for the Series. She ended with a perfect 32-0 season, which extended her undefeated streak to 40 games. She won the Honda Sports Award as the Softball Player of the Year and was named First Team for Pac-10 and NFCA, a national coaches award.
Her senior season featured three no-hitters, another 35-scoreless-innings streak, a spot on the 2002 NFCA First Team, Pitcher of the Year for the PAC-10, and the Honda Sports Award for softball. Her Wildcats made the WCWS each of her four years, with Finch having a 7-2 record with three shutouts, 70 Ks, a 1.83 ERA, plus five hits and a home run at the plate. She holds the NCAA record with 60 consecutive wins.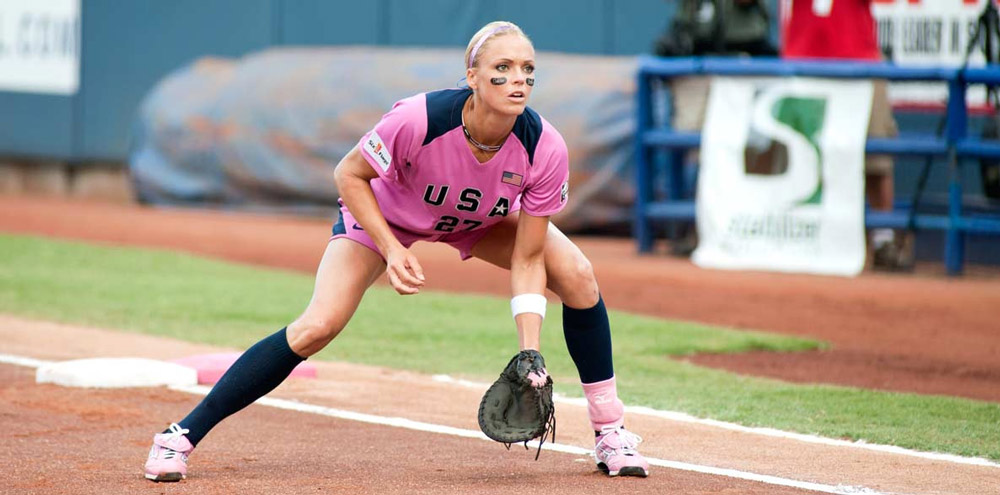 Team USA and two Olympic medals.
Jennie played for Team USA and the USA Olympic team in 2004 at the games in Athens, Greece, where the team dominated and took the gold medal. Jennie had a 2-0 record and gave up no runs.
She was on the Olympic team again in 2008 at the Beijing Games and pitched well, but the team lost the gold medal game to Japan. It was a tough loss for Jennie because Team USA had taken gold the first four times softball had been an Olympic Games sport. She said, "I feel like we let USA Softball down. Many women have worn this uniform and accepted nothing but gold."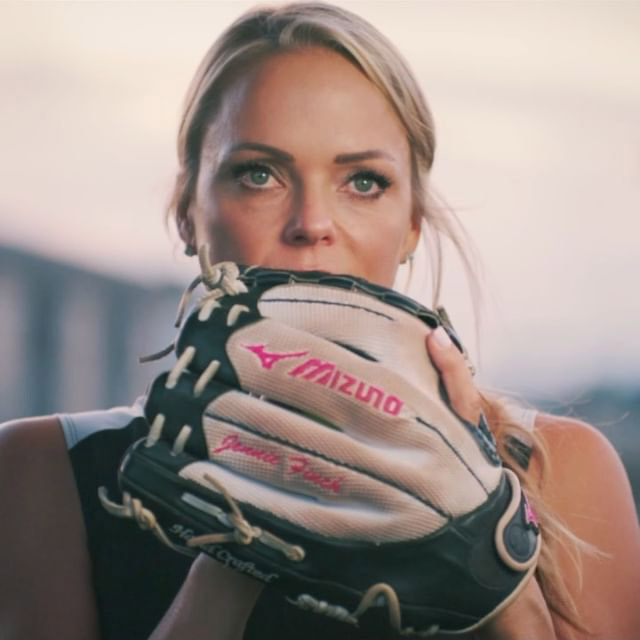 Professional fastpitch softball.
In 2005, Jennie joined the Chicago Bandits of the National Pro Fastpitch (NPF) softball league, where she played for five seasons and continued to be excellent. In her rookie season, she won 15 consecutive games, striking out 127 batters in 104 innings, and shared the League's Pitcher of the Year title. She set all types of League records and threw two perfect games before she left in 2010. The team retired her number 27. The address for their stadium in Rosemont, Illinois, is 27 Jennie Finch Way.
The face of a star, a media favorite.
Jennie Finch is six feet tall, intelligent, well-spoken and has the looks of a Hollywood star, so it's no wonder that she got the attention of the media as her achievements and fame grew. In 2003, an ESPN online poll named her the most attractive female athlete, and in 2004 People Magazine put her on the list of the 50 Most Beautiful People (she was the only athlete on the list).
When she returned from the 2004 Athens Games, she was an even bigger media star and the face of the team. She was on late-night talk shows and appeared in national magazines, including Glamour and Vanity Fair.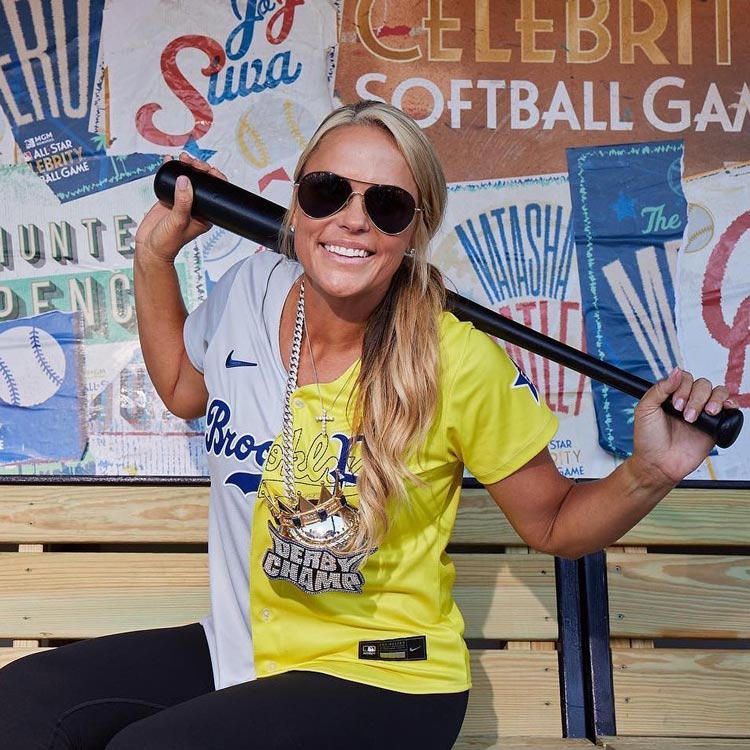 Not that she sought or even wanted all the attention. She struggled with fame at first but also realized that, as a devout Christian, she could use her visibility to be a positive role model for young girls and to promote softball. She turned down Playboy and other adult magazine offers, although she did agree to appear in the swimsuit edition of Sports Illustrated.
She joined ESPN and would appear on a variety of shows in special segments designed to showcase her skills. She faced MLB players, although a number of players refused to either face her or to be filmed striking out against her.
A wonderful ride.
Today, Jennie lives on a farm in Louisiana with her husband of 17 years and their three children. She officially retired from the game of softball in 2010 but still makes appearances at the MLB Celebrity All-Star Game. Jennie and her professional team run 2 day camps.
"Never in a million years did I think I would have the opportunities that I've had and to do the things that I'm able to do," Finch said. "It's just been absolutely incredible, and I'm so blessed to experience so much through the sport. I've traveled the world and met all kinds of amazing people. Just hopefully I can impact and encourage the youth and the future athletes out there."
Follow Jennie to stay up to date:
Resources: mycentraljersey.com/story/jennie-finch; latimes.com/archives/may-09; google.com/search/Jennie+Finch; fanbuzz.com/jennie-finch; youtube.com; jenniefinch.com/biography; wikipedia.org/wiki/Jennie_Finch