Three of the most memorable managers of all time.
Tommy Lasorda passed away on January 7, 2021, at age 93, and he was remembered not only by baseball fans and the baseball media, but sports fans and non–sports fans around the country and around the world.
Tommy joins a long list of managers with longevity and World Series wins, but he's part of a short list of managers who are remembered for what they did and said, which turned each into a celebrity manager of sorts. Baseball fans and historians also remember how Casey Stengel and Yogi Berra impacted the game with their personas as much as their achievements.

Tommy

Thomas Charles Lasorda, born September 27, 1927
Two World Series victories in four appearances
U.S. Olympics baseball gold medal (manager)
Elected to the Hall of Fame in 1997
Once in the mid-'80s, a fan (this author) ran into Tommy at Dodger Stadium on media day. It was a cold, rainy day in L.A. The fan saw Tommy and said, "Too bad it's lousy weather today." "Are you kidding?" replied Tommy. "It's a beautiful day! Do you know how many people in the cemeteries would love to be alive on a day like this?"
Tommy Lasorda loved life, food, baseball and especially the Dodgers. He called the day he was named Dodgers manager in 1976 as the greatest day of his life. He always referred to the "Big Dodger in the Sky," saying God gave him the best life anyone could have asked for. He said he bled "Dodger Blue."
Lasorda's philosophy of life was to always be positive and believe in yourself and your talents and to work hard. When he was named manager as Walt Alston retired, Vin Scully asked him if he worried at all about replacing a legend. Lasorda answered, "You know what? I'm worried about the guy who's going to replace me."
"Listen…" he would often say, "if you start worrying about the people in the stands, before too long you're up in the stands with them."
In 1977, in his first year as Dodgers manager, he took his team to the World Series against the Yankees but lost, and it was the same story the next year. In 1981, the Dodgers faced the Yankees again and lost the first two games. It looked bleak. However, behind Tommy, the Dodgers won the next four games to give Tommy his first World Series title as manager, and the first for L.A. since 1965. He later led the Dodgers to a World Series victory in 1988, orchestrating an "impossible" win over the heavily favored Oakland A's.
Many people forget that Lasorda, at age 73, was named to coach the 2000 U.S. Olympics baseball team. He knew none of the players, a team comprised of Minor Leaguers and former MLB players—no stars. Lasorda led them to the gold against the heavily favored Cuban team. He called it his proudest achievement ever.
Yet, for as inspirational as Lasorda could be, he could also be as foulmouthed as any manager, drunken sailor or a road-weary truck driver. When his buttons got pushed, he didn't care if a reporter or TV cameras were recording what he said.
In a 1978 loss against the Mets, Dave Kingman blasted three home runs against L.A. and had driven in eight RBIs in a 15-inning game. A reporter made the mistake of asking Lasorda what he thought of Kingman's performance:
"What is my opinion of Kingman's performance? What the (expletive) do you think my opinion is of it? I think it was (expletive). Put that in. I don't (expletive) care. What's my opinion of his performance? (expletive). He beat us with three (expletive) home runs.What the (expletive) do you mean 'what is my opinion of his performance?' How can you ask me a question like that? I'm (expletive) off to lose a (expletive) game, and you ask me my opinion of his performance?"
In 1984, Lasorda's language was even saltier when he responded to remarks by a Padres' player (Kurt Bevacqua), who had said that Lasorda had ordered his pitcher to bean a Padres hitter. At first, Lasorda responded calmly, saying it was "very bad for that man to make an accusation like that." But Lasorda had something else to say:
"I have never, ever, since I managed, ever told a pitcher to throw at anybody, nor will I ever. And if I ever did, I certainly wouldn't make him throw at a (expletive) .130 hitter like Lefebvre or (expletive) Bevacqua, who couldn't hit water if he fell out of a (expletive) boat. And I guaran-(expletive)-tee you this, when I pitched and I was going to pitch against a (expletive) team that had guys on it like Bevacqua, I sent a (expletive) limousine to get the (expletive) to make sure he was in the (expletive) lineup."
That was one side of Tommy, but not the essence of Tommy. If anything, those tirades and hundreds more like them pale in comparison to the positive recollections that thousands have expressed since Tommy's passing. He always had a good word and encouragement for people of all ages everywhere he traveled.
And as with Casey Stengel and Yogi Berra, you'll find both humorous and enlightening quotes from Tommy with an online search. Here are a few:
"The difference between the impossible and the possible lies in a person's determination."
"About the only problem with success is that it does not teach you how to deal with failure."
"When you start thinking of pressure, it's because you've started to think of failure."
He once said of a slow-footed player, "In a race with a pregnant woman, he'd finish third."
"Guys ask me, don't I get burned out? How can you get burned out doing something you love? I ask you, have you ever got tired of kissing a pretty girl?"

Tom Lasorda wasn't just an ambassador for baseball—he was an ambassador for living life to the fullest.

Yogi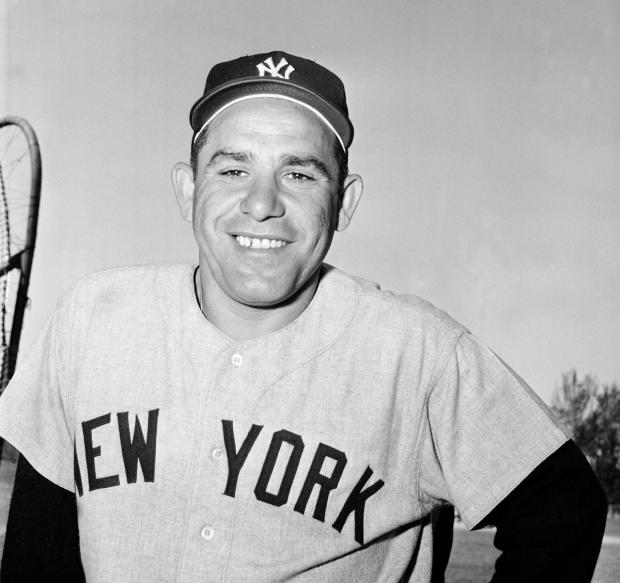 Lawrence Peter Berra, born September 30, 1890, "Yogi"
Played in 14 World Series with the Yankees, winning 10
Three-time AL MVP
Two World Series appearances as manager (Mets, Yankees)
Yogi Berra is perhaps the most quoted professional athlete because he managed to say things in a most unique way. When someone once asked him what time it was, he answered, "You mean now?"
Yogi was a great hitter, catcher and all-around ballplayer, converting to outfielder at the end of his career. He was part of 14 World Series and was on 10 World Series–winning teams a player, both more than any other MLB player. He hit 350 home runs and won the American League MVP award three times. He was elected to the Hall of Fame in 1972 and is one of the greatest catchers of all time. Even while playing alongside other Yankee greats, Yogi led his team in runs batted in for seven-straight seasons at one time.
Yogi played for the Yankees from 1946 to 1963, finishing in '63 as a player-coach. He became the Yanks manager in '64 but was fired after only one season after losing the '64 World Series to the Cardinals. Afterward, he moved between coaching and managing positions for the next 25 years. He managed the Mets from '72–'75 and the Yankees for the '84 and '85 seasons. He also was a coach on the Mets ('65 –'71), the Yankees ('76 –'83) and the Houston Astros ('86–'89). As a manager, he won a pennant with the Yankees and the Mets.
After George Steinbrenner fired him at the beginning of the 1985 season, Yogi stayed away from Yankee Stadium until an apologetic Steinbrenner invited him back in 1999 for Yogi Berra Day. Berra caught a ceremonial first pitch from Don Larsen, his battery mate, who had thrown the only perfect game in World Series history in 1956. They stayed for the game…and watched David Cone throw the first Yankees perfect game since Larsen had.
Yogi died on September 22, 2015, at age 90. When his obituary first appeared in the Associated Press, it initially and mistakenly said that Yogi Bear had died. His wife had asked him once where he wanted to be buried. He responded, "I don't know. Why don't you surprise me?"
"Why buy good luggage? You only use it when you travel."
"A nickel ain't worth a dime anymore."
When the Yankees lost the '60 Series: "We made too many wrong mistakes."
When asked the size of his Yankees cap at spring training: "I don't know. I'm not in shape yet."
"I really didn't say everything I did."
"I want to thank you for making this day necessary."
"It ain't over till it's over."

Casey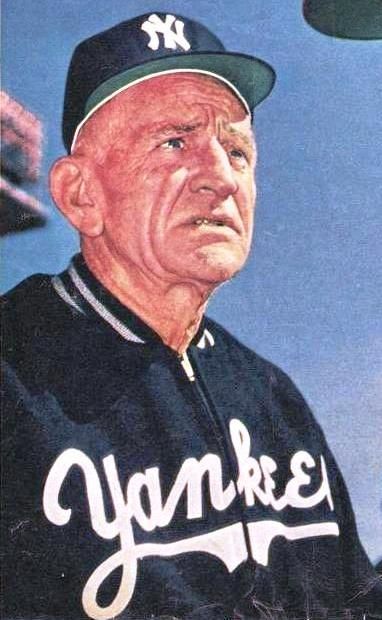 Charles Dillon Stengel, born September 30, 1890, "the Ol' Perfesser"
10 pennants and 7 World Series titles in 12 years
A winning percentage of .623 as Yankees manager
Casey Stengel joined the Yankees in 1949 when we was already 60 years old—and he'd been in the Majors since 1912. He lived and breathed baseball, and it was said he remembered every detail of every season, game and player.
Casey played the clown and had lots of antics up his sleeve as a player. As a member of the Pirates once, he was being soundly booed by an Ebbets Field crowd. He went up to the plate, took off his cap and a live bird flew out. He would even pretend to faint at an umpire's bad call, until one umpire pretended to faint along with him. In the early 1940s, someone suggested to the Yankees GM that they consider Stengel as their next manager. The response that came back was, "That clown?"
When he was hired for the 1949 season, the decision wasn't popular. One writer said the Yankees had eliminated themselves from the upcoming pennant race when they "engaged Perfesser Casey Stengel to mismanage them for the next two years."
Casey seemed the opposite of a keen baseball strategist. His players called him "bewildered." DiMaggio didn't bother to hide his dislike for his new manager. But that was fine by Stengel. He was more interested in the younger players on the team, including a "clumsy catcher" named Berra. And Stengel managed his own way, using relief pitching and platooning. That wasn't popular then, but the Yankees won, and Stengel's character, characteristics and antics were on full display.
He managed three teams, including the Brooklyn Dodgers, before he joined the Yankees. Life has a sense of humor: After he left the helm of the Yankees at the end of the 1960 season, he signed on to manage the Mets in 1962...who lost at least 100 games in each of their first three seasons. But he'll always be remembered by his famous quotes, his memorable antics and his achievement as skipper of the Bronx Bombers.
In 1969, he was named the "Greatest Character in the Game," as part of baseball's Centennial Celebrations, beating out…Yogi Berra.
"I made up my mind, but I made it up both ways."
"Being with a woman never hurt no professional ballplayer. It's staying up all night looking for a woman that does him in."
"And Greg Goosen, he's only 20 and with a good chance in 10 years of being 30."
"Good pitching will always stop good hitting and vice versa."
"There comes a time in every man's life, and I've had plenty of them."


Resources: sandiegouniontribune.com/sports/padres/bevacqua-dodgers-tommy-lasorda; olympics.nbcsports.com-us-olympic-baseball-team-tommy-lasorda; dailynews.com/2021/01/08/tommy-lasorda; espn.com/blog/sweetspot/greatest-managers-of-all-time; bleacherreport.com/ top-10-managers-of-all-time; youtube.com/watch?v=PA; everything2.com/title/The+Tirades+of+Tommy+Lasorda; Baseball-reference.com; en.wikipedia.org; "Baseball: An Illustrated History." Geoffrey C. Ward and Ken Burns. Knopf, New York. 1994.