You don't hear players or broadcasters talk much about them, but axe handle bats are in dugouts at every level...and have been for a while.
A small, informal survey of a few dozen long-time, team-following dedicated baseball fans revealed something pretty interesting: Many true fans have never heard of the term "axe bat."
More than that, the fans surveyed were very surprised to hear that more than a few dozen players in the Majors have used an axe bat, and that they're used at every level of organized ball. Now, most fans aren't (or haven't been) actively involved in organized baseball, so it only makes sense that this is news.
That being the case, let's focus on what's known about the axe handle bat.
What is an axe bat?
An axe bat has no knob at the base of the bat. It's also not perfectly round at the bat handle—instead, it has an axe-like handle (more oval, not round) and a curved part protruding at the bottom…but not a knob.
Just looking at a picture of an axe bat compared to a regular bat shows the difference. It has a flared, tapered handle that was designed to ease the pressure on hands and even prevent injuries. Other than the handle, the rest of the bat is shaped to whatever a batter or team wants, in terms of size or weight.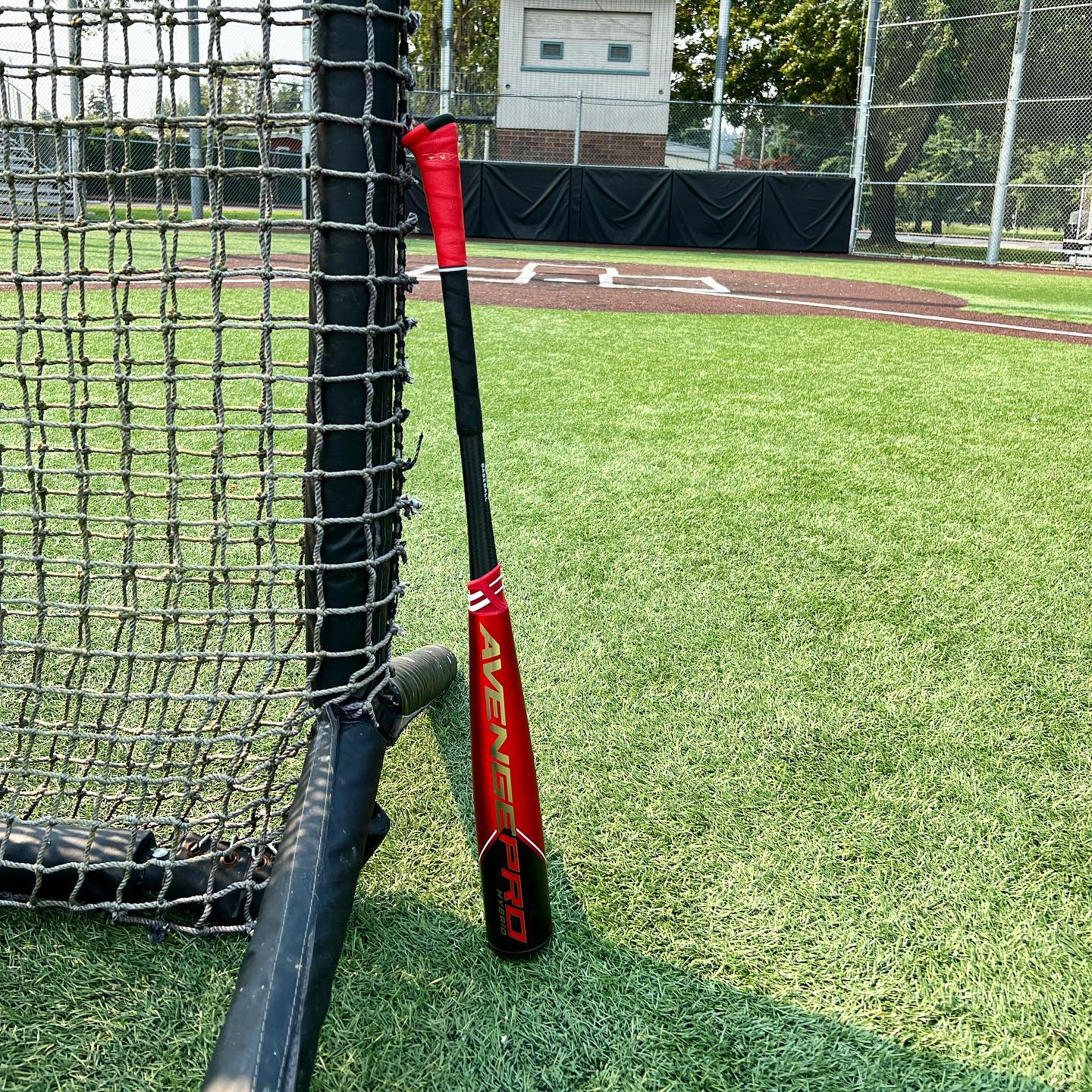 Who created the axe bat?
The axe bat concept came from the mind of Bruce Leinart, a long-time baseball fan who came upon the idea quite accidentally when he was chopping wood in 1990. As he swung his axe, he realized how the shape of an axe handle, which isn't round, fit very naturally in his hand and seemed to make it easy to swing. He also realized the axe doesn't have a knob like a baseball bat does.
What would happen, he wondered, if a baseball bat—specifically the part you grip—were shaped more like an axe. More than that, he also had the idea that the typical bat knob, which often digs into a batter's hand, could be eliminated. He worked on developing prototypes and later filed a patent. In 2009, after shopping it around, he went to Baden Sports with his idea and set up a business agreement with them.
Baden began developing and refining the bat for a few years before making it available. According to the Baden Sports website, the "Axe Handle is designed for the biomechanics of your swing. With a more natural swing and improved range of motion, you'll achieve better bat speed and control."
Baden has an entire lineup of axe handle bats under their own brand name, the Axe Bat. In 2012, a team won the Division III World Series using axe handle bats. Baden also licenses their patented bat design to four MLB-approved bat makers.
Who is using an axe bat in the Majors?
Here's what unusual—there are dozens of players using axe bats in the Big Leagues, but it's hard to get an exact number. In some ways, it's as if using one isn't a big deal…or it's old news.
In fact, a typical Google search will uncover articles written five or more years ago that say "more than 60" MLB players have switched to the axe handle bat. Dustin Pedroia used one, as did retired MLB journeyman Kurt Suzuki. Jake Cronenworth of the Padres is another MLB player who uses the axe handle bat, as well as new Cubs shortstop Dansby Swanson, power-hitter Kris Bryant, and MVP winners George Springer and Mookie Betts. In fact, Betts is a spokesperson for one of the bat makers.
It's said that Springer tried one for himself because Houston teammate Carlos Correa was using one. According to reports, it could've been a major factor for Springer during the 2017 season when he won the World Series MVP Award.
Again, it's as if the axe handle bat is not big news. And it's true that the majority of players are still using the "regular" bats that have been around since the game began.
Collegiate baseball and softball teams have also allowed the bat's use, and there are youth sizes available as well.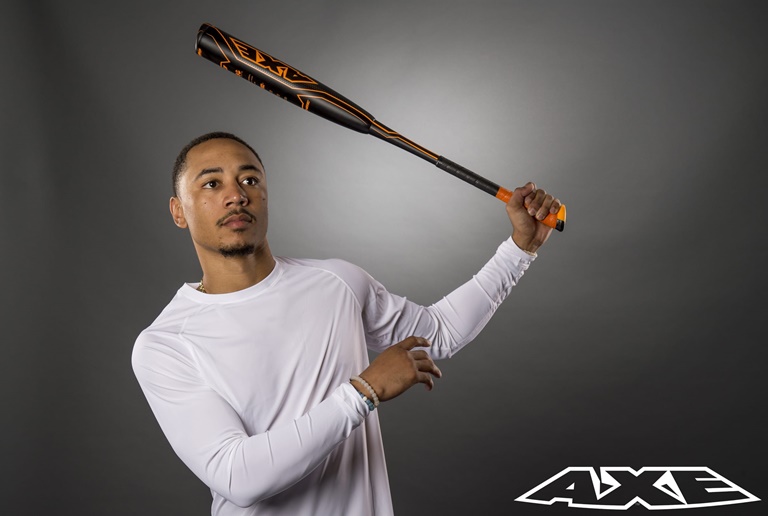 May 25, 2016, Boston, MA: Boston Red Sox right fielder Mookie Betts poses for a photograph for Axe Bats at Fenway Park in Boston, Massachusetts Wednesday, May 25, 2016. (Photo by Billie Weiss)
What are the known benefits of using an axe handle bat?
This bat isn't a gimmick. The players who use it say it improves their swing and provides more power and pop. When Mookie Betts was with Boston and a teammate of Dustin Pedroia, hitting coach Chili Davis saw the benefits of the bat:
"Look at our right fielder, Mookie Betts," Davis said at the time. "He's having a tremendous year using it. He's surpassed his career high in home runs, and he's hitting over .300. Our second baseman, Dustin Pedroia, was a good hitter, but with this bat, he has more pop."
Betts, an early proponent of the Axe Bat, became a spokesperson.
Giancarlo Stanton also switched to an axe handle bat after he missed the end of the 2015 season when he broke a bone in his hand on a swing. When he came back, he switched to the new bat to lessen the pain.
There have been scientific studies showing the special design of the axe bat puts the hands in better position to hit with more speed and power. There's also the benefit of reducing the risk of injury by a bat's knob. The primary injury the normal bat can cause is a break of the hamate bone—and there's a long list of players who've missed months due to that kind of injury.
So, more speed and power, a better swing, less chance of a hand injury—the axe bat sounds ideal.
If you think about your hands when you choke up on the bat or swing a golf club, you'll realize why the knob isn't a necessity.
If it were, you'd see lumberjacks swinging axes that looked like baseball bats.
Resources: badenbaseballclub.com/axebat; diamondsportgear.com/blogs/news/the-axe-revolution; si.com/edge/axe-bat-dustin-pedroia; espn.com/mlb/storyax-handle-ignite-kris-bryant; poughkeepsiejournal.com/axe-bat-invention; tbonesbaseball.com/players-switching-to-axe-bats; justbats.com/blog/post/axe-bats; nynjcmd.com/fracture-hamate-bone; Wikipedia.org/bats; youtube.com/axe-bats