CHANGE FROM FASTBALL TO CHANGEUP AT THE TOUCH OF A BUTTON
Throws changeups using the remote control on key chain or manual button located on control panel.
40-90 MPH SPEED RANGE
The BP®3 has a large 3" LCD display. You to set the digital speed you desire by simply turning a knob.

HORIZONTAL AND VERTICAL
MICRO-ADJUSTMENT
Pinpoint™ control at your fingertips—the most advanced and easy to use pitch targeting system ever developed for a pitching machine (patent pending.)
Fastball/Changeup Hitting Circuit: 3 preset hitting circuits allows the machine to automatically change between fastball and changeup giving your hitters a "real" pitcher vs. hitter experience.

Throws these ball types: Throws baseballs, the JUGS Pearl®, JUGS Sting-Free® baseballs—dimpled and seam, JUGS Lite-Flite® and SOFTIE® baseballs, and JUGS BULLDOG™ baseballs.
Select-A-Pitch™ Dial: The BP®3 throws the following nine pitches:

Fastballs and changeups, right and left-handed curveballs and sliders, right and left-handed cutters and split-finger fastballs.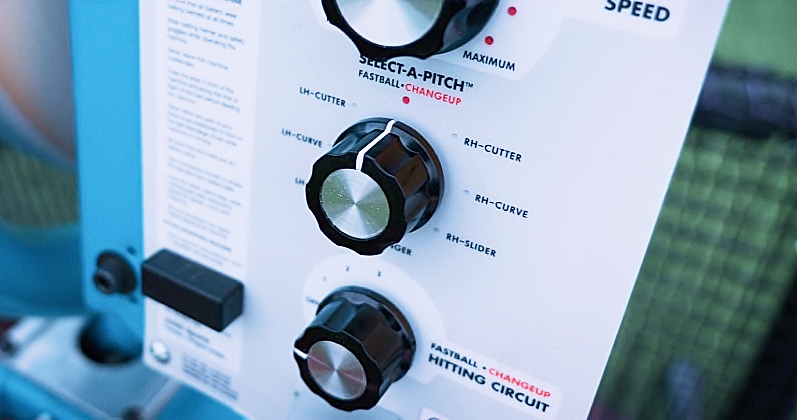 FEATURING A REALISTIC
64" DELIVERY HEIGHT
Delivery
Trusted and used by the very best at every level of baseball.
Don't just take our word for it. Hear from future Hall of Famer and World Champion Albert Pujols, NCAA D1 Baseball Champions, Pat Casey and George Horton, and Oregon's winningest high school baseball coach, Dave Gasser.